Goalkeeping is an uncertain career where someone is more likely to be remembered for mistakes than successes, as Karima Taieb found out when her two mistakes, among a host of saves, put Chelsea on their way to the women's FA Cup final at Manchester City's bill.
The match was effectively settled in the first five minutes, when first Erin Cuthbert beat the ball through Taieb's hands, before Melanie Leupolz did pretty much the same, but in a more tame way to leave the goalkeeper alone, as City's hopes for a third in a row The FA Cup triumph was stipulated. Beth England put the result beyond doubt late.
"I just wanted to win the match," said Chelsea manager Emma Hayes. "We have not won a match up here in 90 minutes before. I just wanted it away from us and I think we did it convincingly. I thought the players who started the game did the work we needed, "They did, and the players who came off the bench were fantastic. I thought it was a team that once again showed their manager that they will keep improving."
Victory takes Chelsea back to the FA Cup final for the first time since 2018, giving Hayes the chance to win the trophy for the third time. "I'm happy to be there. It's one day a week where I'm just down the road to a football stadium. It happens to be the biggest and home of national football, and as a kid I would always be there as a fan. "I never thought I would do it as a coach, but I've been there a few times now. I just want to go and win."
City started out bright as they seemed to forget their problems in the Women's Super League. There, they have won once in five matches, but that should not hold. Cuthbert caught City in a nap when she got a corner in the 23rd minute, taking a touch on her thigh before sending it through the hands of Taieb at the nearest post. The shot was powerful, but the goalkeeper will have been disappointed with her weak attempt to stop it.
Things were going to get worse for the visitors.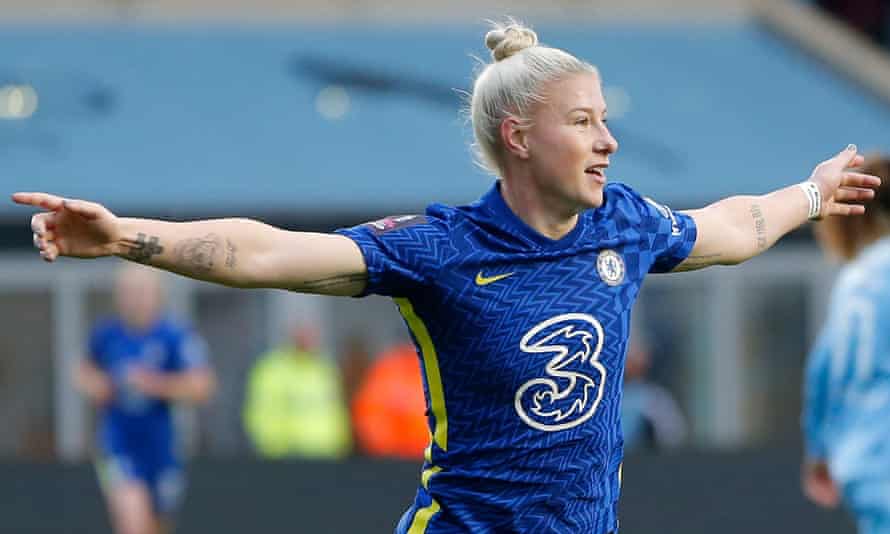 The German took a touch and struck a tame bouncing shot from 18 yards, which should have been collected by the goalkeeper, but instead bubbled in the corner. City's goalkeeper problems are well documented with Karen Bardsley, Ellie Roebuck and Khiara Keating out of injury, leaving them with 16-year-old Grace Pilling on the bench.
Taieb was desperate to make amends for his mistakes; she quickly came out to prevent Sam Kerr from adding to the score after she was sent through on goal by Fran Kirby. The goalkeeper made two more fine saves in quick succession as she first saw the ball pounded by her fingertips and over from a chance close to Kirby before stopping a sharp shot from the resulting corner after a bit of pinball in the box.
Taieb redeemed himself further after the break when Jill Scott inadvertently sent Kirby through. She put the ball off to Cuthbert in space, but her attempt to find the bottom corner was repulsed by the forward-rushing goalkeeper to give her additional credit.
City regained their vitality after the break, but without the finish. There were several attempts from distance, but Ann-Katrin Berger remained relatively untouched, leaving her happy to be neither goalkeeper hero nor villain. There was no hope of a comeback from City, but even the most optimistic home supporter will have accepted the result as England rose to head Jessie Fleming's cross late.
The result ended City's run in the competition, having won it in the previous two seasons, leaving their manager, Gareth Taylor, to reflect on his goalkeeper's mistakes. "I got a quick glance and you would expect them to be rescued," Taylor said. "It's easy from the sidelines, when you're in that moment, you do not know if it has come through the legs, especially with the second goal. I was a little more worried about the first one, where we went off defensively – you can not do that. against Chelsea. "