Morrison quickly denied that he had lied, saying that during dinner at the Elysee Palace in Paris in June, he had explained to Macron that the submarines to be supplied by the French company Naval Group would not meet Australian needs.
"I was very aware that conventional submarines would not be able to meet our strategic interests and we will have to make a decision in our national interest," Morrison said.
Some Australian officials familiar with the June dinner call said Macron at one point told Morrison "I do not like to lose weight" – a comment the Australians interpreted as a sign that the French at the time knew they were at serious risk of losing the submarine agreement.
Asked why he did not tell Macron that Australia was discussing an option for a nuclear submarine with the United States and Britain, Morrison told reporters in Rome: "This was not something one walks around and has broad conversations about."
While Australian prime ministers have previously clashed with world leaders – as when Tony Abbott threatened to "shirt" Russian President Vladimir Putin and Paul Keating branded Malaysian Prime Minister Mahathir Mohamad "stubborn", the new clash pits allies against each other in a direct allegation of dishonesty.
Loading
"Let me be very clear: the decision I made as Prime Minister, the decision my government made, was in Australia's national interests," Mr Morrison said.
"These decisions are difficult. Of course, it has caused disappointment and it has had an impact on relations with France."
But the furore is creating a political storm of personal confidence, with Labor leader Anthony Albanese saying the "real problems" raised questions about the prime minister's handling of the case.
"You have seen President Macron make some very serious statements about his views on what Scott Morrison said to him before Scott Morrison canceled the contract between Australia and France via text message," Albanese said.
"Australians need a leader they can trust."
National leader and acting Prime Minister Barnaby Joyce said there was speculation about the cancellation of the contact "long before" the decision.
"We have not stolen an island. We did not spoil the Eiffel Tower. It was a contract," he said.
"And contracts have terms and conditions, and one of those terms and conditions and suggestions is that you might get out of the contract. We got out of that contract.
"I hope President Macron understands that Australia and France ultimately have so much more in common and so much into the future than a contract that is now in the past."
While Macron stressed that he respected the history between Australia and France and the need for Canberra to make "sovereign elections", the French president said "one must respect allies and partners and that was not ok".
Loading
US President Joe Biden used a meeting with Mr Macron over the weekend to describe the AUKUS message as "clumsy" and apologize that Paris was not told about the deal much earlier.
"It was not done with much grace. I was under the impression that France had been informed long before that the agreement did not go through. Honestly to God, I did not know that you did not have it."
The French ambassador to Australia, Jean-Pierre Thebault, was due to meet Foreign Minister Marise Payne on Monday for the first time since he was recalled from Canberra amid the submarine's crash. Thebault also speaks to the National Press Club on Wednesday.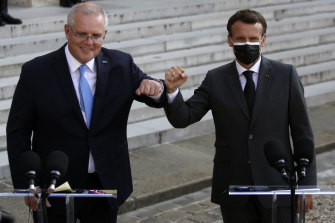 Senator Murray Watt of Labor in Queensland said the indictment against Morrison raised the question of whether a country could trust the prime minister.
"Some people may think it does not matter what leaders say to each other, but when you have one of our most important allies who says you can not trust the Prime Minister, how can a country believe in something like Scott? Morrison says? " said Senator Watt.
"He always spins, comes with spin and marketing to get through a situation. And now he is being found on the international stage. It's bad for all Australians, not just Scott Morrison. "