Former Prime Minister Malcolm Turnbull says Scott Morrison should apologize to French President Emmanuel Macron, saying the way he ended the $ 90 billion submarine deal was "shameful".
Turnbull accused the prime minister of "carefully and doubly" deceiving France when he gave up the multi-billion dollar contract in favor of an agreement to build nuclear submarines with the United States and Britain.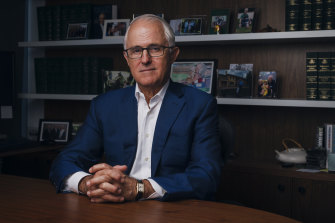 "I think Scott Morrison should apologize … France shared some of their most secret technology on submarines with us … and it was shameful to trade with them, as Morrison did," he told ABC's. RN breakfast.
"Morrison's behavior has done enormous damage to Australia, to France, to the United States' relations with France."
Loading
Turnbull also accused the prime minister of "selectively leaking" text messages and details about the new deal with the US and Britain, saying Australia should have had an "open and honest" discussion with France about pursuing a nuclear option.
In the leaked text, which is believed to have been published by the Australian side, Mr Macron asked: "Should I expect good or bad news for our common submarine ambitions?"
Sir. Morrison then tried to call Mr Macron, but the president found out about the cancellation and the AUKUS alliance via text and letter.
"He selectively leaks, no doubt, text messages between him and Emmanuel Macron," said Mr. Turnbull.
Sir. Turnbull's comments come a day after Mr Macron accused Mr Morrison on camera of lying about the $ 90 billion submarine contract.