Several people received an ultra-low dose of a COVID-19 vaccine after a bug at a pop-up clinic south of Brisbane where 175 jabs were given.
On Monday, Queensland Health said it contacted 175 people who received the Pfizer vaccine at Flagstone Community College on Saturday, October 23rd.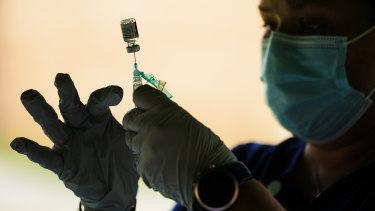 Of the subjects, 148 received their first dose and 27 received their second dose.
Six people received a low dose due to a vaccine preparation error.
"The Pfizer vaccine requires a preparation process in which saline is added to the vaccine vial and withdrawn to make up to six doses," Queensland Health said in a statement.
An initial review showed that one vial was used twice, meaning that the doses taken during the second use were over-diluted.
"Unfortunately, there is no way to track which six of the 175 people through the vaccination pop-up clinic received the ultra-low dose, and we will contact all concerned to discuss revaccination if necessary."
The department said a review was underway to further understand what was causing the error and how processes could be improved.
Metro South Health COVID-19 Incident Controller Dr. Michael Cleary said the error was discovered after the completion of the pop-up clinic as part of the due diligence process, and a full incident report was being prepared.