Judo Bank chief Joseph Healy says small and medium-sized businesses will be able to withstand the strongest wage pressures he can remember and deliver an optimistic outlook for corporate borrowers when the lender made its ASX debut.
Sir. Healy, co-founder of the business-focused bank, said Monday that all sectors of the economy had begun to feel wage pressures as activity increased, highlighting recent reports of double-digit growth in some wage packages.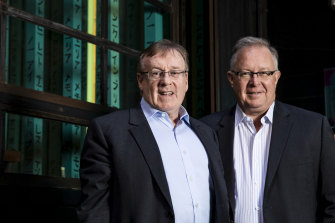 He made the comments when the shares of Judo, the first fully licensed bank to list on the ASX in 25 years, jumped 7.6 percent on the bank's first trading day.
In addition to the lack of qualifications in industries such as hospitality, Mr Healy said that inflationary pressures were also built up to retain and attract staff in sectors such as banking. He also noted reports of among some law firms giving staff 10 percent wage increases to retain skilled workers.
"This is not 3 to 4 to 5 percent wage pressure, it's 10 percent wage pressure," Mr Healy said. "It's the strongest wage pressure I can remember."
The threat of higher inflation is a growing debate in the financial markets, triggering some predictions that the Reserve Bank may act to raise interest rates by the end of next year, compared to previous guidance that interest rates would probably not move until 2024 .
Sir. Healy, former head of the National Australia Bank's flagship lending arm for companies, said that although interest rates began to rise, corporate borrowers were well equipped to deal with it because of their lower indebtedness compared to households.
"We expect no credit problems at all when we get out of the lockdown," he said.
"I think you will see a marked upswing, and that is despite the inflationary pressures that are building up in the economy."