A common cycle and hiking trail that branches off to the surrounding parks will be a key element of a 16-kilometer motorway connecting the future Western Sydney Airport with the rest of the city.
The plans for the M12 cracked Aboriginal art and landscape design, and the Blue Mountains prospects for motorists, as part of the $ 2 billion free route that connects Sydney's third city with the M7 to the east.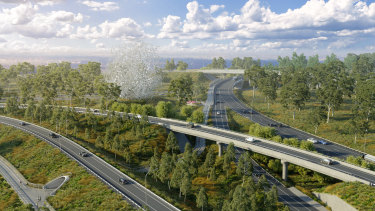 A 30-meter-high emu-ready sculpture, inspired by the constellation Great Emu in the Sky, will be a focal point along the route that the federal government has promised will be completed when the airport opens in late 2026.
Federal Minister for Urban Infrastructure Paul Fletcher said the Commonwealth, which has contributed 80 per cent of the cost of the project, was working with the NSW government to provide a transport route that would meet the needs of locals and people in Greater Sydney. .
"If western Sydney were an independent city, it would be the fourth largest city in Australia and the third largest economy," said Mr. Fletcher, adding that construction should begin in mid-2022. "This powerhouse region deserves a world-class airport and world-class infrastructure, and that's what we are working with the state to deliver."
The planned common pedestrian and cycle path is proposed to utilize the streams that run through the area to provide access to open spaces, and will potentially connect to future cycle and pedestrian networks.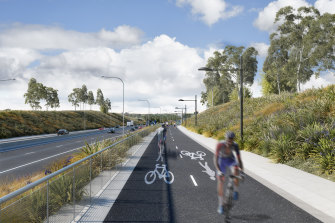 When the price of the project had risen from $ 1.2 billion in 2015, NSW Labor's spokesman for Western Sydney, Greg Warren, said he wanted an "iron-clad guarantee" that motorists would not be charged tolls for using the road. He also called for a guarantee that the construction deadline would be met.
"It will be chaos on the roads of western Sydney if the vital motorway M12 is not built before the airport opens," he said.