Prime Minister Scott Morrison boarded his RAAF plane en route to Australia on Tuesday night local time (Wednesday AEDT) after spending 48 hours meeting other world leaders and announcing his new formal goal of achieving net zero emissions by 2050.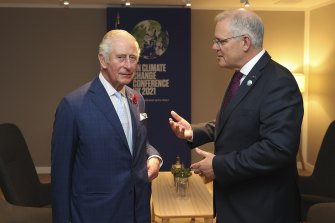 He previously sat down with Prince Charles and informed the heir to the throne and longtime environmentalist that the federal government "had now committed to net zero by 2050, doubled our climate finance commitments and worked very closely with our Pacific family".
Charles simply replied "absolutely" before asking the waiting press to take a picture of the couple. He later said it was "amazing" to meet Morrison.
Speaking to reporters as world leaders began to leave Glasgow, Johnson assumed a tone of cautious optimism about what would happen in the coming days.
"It's far too easy to get to a summit like this and get caught up in a mood of excessive enthusiasm," he said.
"And as this first phase of COP26 draws to a close … we must beware of guarding against false hopes and not in any way believe that the job has been done because it is not. There is still a very long way to go.
"But having said that, I'm cautiously optimistic."
By entering the 12-day meeting, Johnson gave the negotiations a 60 percent chance of keeping alive the goal of limiting climate change to 1.5 degrees above pre-industrial levels.
Johnson said a week ago that he believed that if COP26 was a football match, the score would be 5-1 during a match between humanity and climate change.
"And I think what you can say today, after two days of talks with about 120 world leaders, is that we have drawn a goal or maybe even two back," he said.
Loading
"And I think I would be able to take this thing for extra time, for there is no doubt that some progress has been made."
Asked about India's surprising commitment to achieving CO2 neutrality by 2070, Johnson replied: "I think the most important thing they have said is that they want to decarbonise so much of their electricity system by 2030. It is a massive obligation."
The United Kingdom is particularly pleased with a new agreement to halt deforestation and a pact to reduce methane emissions by 2030. Several other countries have also promised tougher efforts to curb greenhouse gas pollution.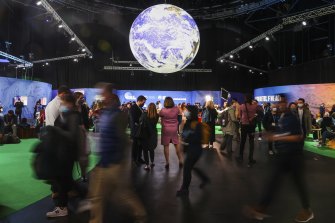 The Global Methane Pledge, launched Tuesday after being announced in September by just a few signatories, now covers countries representing nearly half of global methane emissions and 70 percent of global GDP, Biden said.
Methane is more short-lived in the atmosphere than carbon dioxide, but 80 times more potent at warming the planet. Reducing gas emissions, estimated to account for 30 percent of global warming since pre-industrial times, is one of the most effective ways to curb climate change.
Among the signatories is Brazil – one of the five largest emitters of methane generated in cows' digestive systems, in landfill waste and in oil and gas production. Three others – China, Russia and India – have not signed up, while Australia has said it will not support the promise.
With Reuters
Get daily updates on the climate summit that will shape our future. Sign up for our COP26 newsletter here.