First published in Aging on November 4, 1991
Ringwood to St Kilda, via the rest of the world
During its circumnavigation, the 54-foot yacht Roama experienced three marriages, including the captain's daughter, which gave it the nickname "the love boat".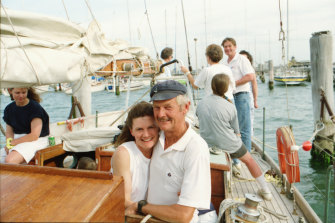 Mr. Doug Jenkin, who left Ringwood four and a half years ago, sailed up to St Kilda Pier yesterday. In those years, 40 lands and the seven seas passed by the yacht of his yacht. Mr. Jenkin lost count of the islands he visited on the 45,000-mile voyage.
Two of Mr. Jenkin's four daughters were with him. Pamela, 22, has been sailing for the past 12 months on her way home. Katherine, 28, married a crew member and returned to settle in Melbourne after 15 months away.
"This boat is called the love boat," Katherine said yesterday. A family friend who was introduced to a crew member in London also tied the knot during the boat's voyages.
The roama showed the load of the voyage: its front lower cloak was covered with rust, the falls were sewn and repaired with string, and the sails were as wrinkled as the captain's face, smiling in the north wind.
But Mr Jenkin, 57, said the wooden-masted Roama was perfectly seaworthy. "It will only have a facelift, and she could sail the earth again."
Tragically, the earth voyage was to take place in two parts.