Gas producer Santos has given the green light to a $ 220 million project to store carbon dioxide in southern Australia after the federal government allowed it to receive carbon credits that have been criticized as a fossil fuel distribution.
Santos CEO Kevin Gallagher, who traveled to Glasgow for the COP26 climate summit, said the project will store 1.7 million tonnes of carbon dioxide a year from 2024, making it one of the largest projects in the world with the lowest unit costs.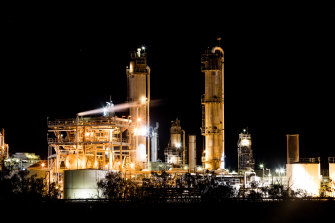 "We expect a full life cycle cost of less than $ 24 per tonne of CO2, including operating costs of $ 6-8 per tonne of CO2," Gallagher said.
"This decision is a critical step in the decarbonisation of natural gas on our path to new low-emission and clean-burning fuels such as hydrogen.
"It is also an important milestone in our plan for Santos to achieve net-zero Scope 1 and 2 emissions by 2040."
The approval from Santos and its one-third partner Beach Energy came after the Clean Energy Regulator registered the project, enabling it to qualify for Australian CO2 credit units for 25 years.
Sir. Gallagher said Australia had an advantage in carbon storage and that Santos had received significant international interest in the Moomba project.
Carbon capture and storage has become more and more controversial, as some see it as a way to extend fossil fuel production instead of reducing global emissions.
The gas fields near Moomba in the Cooper Basin contain carbon dioxide, which is currently separated from natural gas and vented to the atmosphere.