This will include a new $ 1.5 billion fund to protect the Congo Basin, home to the second largest tropical rainforest in the world.
Although forests take emissions out of the atmosphere, this natural climate buffer is rapidly disappearing.
The world lost 258,000 square kilometers of forest in 2020, according to WRI's Deforestation Tracking Initiative Global Forest Watch, an area larger than the United Kingdom. The Geneva-based World Meteorological Organization said parts of the Amazon rainforest have gone from being a carbon "sink" that sucks carbon dioxide from the air to a source of CO2 due to deforestation and reduced humidity in the region.
Monday's agreement greatly extends a similar commitment from 40 countries as part of the 2014 New York Declaration of Forests and goes further than ever in devoting resources to achieving this goal.
Loading
Alongside this, more than 30 financial institutions with over $ 8.7 trillion in global assets – including Aviva, Schroders and Axa – are expected to commit to eliminating investment in deforestation activities.
"Today we celebrate – tomorrow we will start pushing for the agreement to be delivered," said Roberto Waack, a Brazilian business executive and biologist and Chatham House visiting fellow.
"The agreement is a significant milestone on the road to protecting our precious forests and tackling the climate crisis.
Director of Trillion Trees, a joint venture between BirdLife International, Wildlife Conservation Society and WWF, John Lotspeich, said it was "amazing" that executives "finally" tackled deforestation.
"Yes, we must restore forests and plant trees to achieve the ambitions of the Paris Agreement.
"But at the same time, if the forests continue to disappear at the current catastrophic speed, all this work will be to no avail. And quite frankly, the silence around the value of intact forests has been deafening."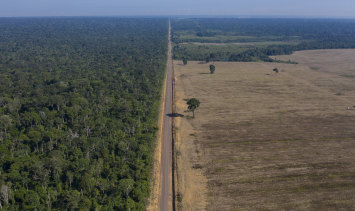 The UN Climate Office warned this week that the world remains out of target to achieve its goal of reducing emissions as part of its international efforts to curb global warming.
Concentrations of carbon dioxide, methane and nitrous oxide were all above the levels of the pre-industrial era before 1750, when human activities "began to disturb the Earth's natural equilibrium," the office said.
with Reuters
Get daily updates on the climate summit that will shape our future. Sign up for our COP26 newsletter here.