Have you sent your children to Sleep away camp? Parents on the East Coast have traditionally sent their children to Overnight camp for several weeks at a time, but here in California it's a newer phenomenon, and not quite so common. But that is about to change.
More and more parents are choosing Sleep Away Camps in California for their kids every year, so as it grows in popularity, we want to share information about what it's like and what opportunities you have out there.
As with everyone Summer camps, there are some that have a theme and some that cover all bases and offer a wide range of experiences for children.
Things to know: Sleep Away Camps generally book earlier than Summer day camps, so it's a good idea to start considering your options as early as December of the year before.
Parents often ask: How much does Sleep Away Camp cost? The answer obviously depends on the camp, but the general range is between $ 1500 – $ 4000 / per session. Remember that a session can last a week or two and that the fees cover room, board and activities.
There are many Overnight Camps Across California, and some are within driving distance of Los Angeles. See our list above Sleep Away Camps in California (and beyond) if you are looking for opportunities.
My daughter's first Sleep Away Camp experience
We would like to share this story from our friend Gail, a SoCal Mom who sent her daughter to Overnight Camp for the first time this year. She wrote her experience and shared a few photos. What follows is her experience, in her own words. Enjoy!
The summer of 2020 was a leaching. I had prepared to send my nine-year-old off for her first experience at Sleepaway Camp. The fear of illness exceeded my fear of seeing my only child take a bus for two weeks and have the time of his life.
The camp was canceled. Summer was largely canceled that year due to the pandemic.
2021 offered a new promise. I assured my daughter that she could have her first sleepaway experience at 10 a.m., just as I had done (cough, cough) years earlier.
When I was growing up on the East Coast (NYC), Summer Sleepaway Camp was the norm. Everyone did. We wanted to go with friends and have fun all summer.
Eight weeks away from home felt like heaven on earth. Of course we missed our families and friends, but we wrote a lot of letters and sent small trinkets (strings and friendship bracelets) and what about the mail … but the highlight was always when someone received a care package!
Are you looking for a Day Camp instead? See our list of summer camps in Los Angeles.
Get ready for camp
For my daughter's summer, I spent two months preparing. Bought a new giant duffel bag, made list after list of what I had, what I still need to buy … did her swimwear still fit ?, are her shorts comfortable ?, did she need a full size toothpaste or wanted a pair are small enough?
And I almost forgot the washable labels. Definitely thought I had enough. I did not. Indicated to write his initials on his socks, with a sharp.
Due to security protocols, we drove her directly to the camp instead of the bus (which was not an option). After exhaustive research, I found a camp that was about an hour away from Los Angeles, so if for some reason, I could come and pick her up quickly. Neurotic? Optionally.
She was a little nervous about driving up because she did not know anyone who was going with her, but when she arrived, the counselors jumped over to the car, opened the door and hugged her immediately. Everyone was masked. That's how it should be this year.
Everyone was fine with it. The children were to be tested for COVID-19 symptoms within 72 hours of arrival, giving parents a little extra comfort in feeling that their child's new community was probably a little more protected than out in the rest of the world.
I forced her to let me take one last picture before she ran down the hill to meet her bunk mates without looking back a single time.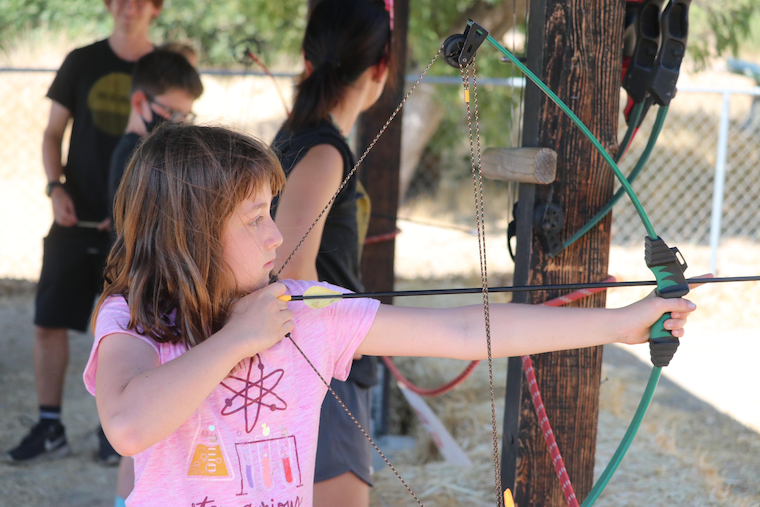 Stay in touch with your motorhome
We left. I knew mail was a really important part of this experience, so I had already sent a letter in the hope that it would arrive the day after we had delivered it. Then I sent another, then another. Still waiting to hear SOMETHING from my dear daughter … Crickets.
A week goes by. So finally … A message! But not from the carefully organized paper that I had packed for her with stamps, a list of addresses of her friends and family included … but via email (which I did not even know she was allowed to). She wrote a letter by hand, they scanned it and sent it to me on my parent account. Oh. Well, that's something.
"She's feeling the best ever," it reads. Names an admirable list of new friends, how much fun she enjoys riding bikes, ziplines, art projects, campfires and the amazing food. We actually received a handwritten letter later during the second week and I was just as excited to get it as she probably felt like getting HIS first letter.
Pictures from the camp
I absolutely missed her, but the camp had something resembling full-time photographers, and they used an app called Campanion, which allows parents and families to log in and see all the activities going on at the camp all day long. It was as if she was just down the street!
The site uses face recognition to select photos of my child on photos – it's not perfect as I can identify the back of my child while the app certainly could not, but it provided a very fun experience as my husband and I rolled through the posts pictures from every day.
"Oh, she's on stage tonight! or "she's on the water slide again" we shouted every night … The smile on her face was big. She loved making her own decisions when she was away from us.
I could not wait to pick her up 13 days after handing her over. The person who got into the car was different. Probably browner, definitely dirtier and happier than she had been for two years probably. She made me promise that I would send her back next summer so she could be with her camp friends again … I said "what about three weeks next time?" She smiled and said "four".
Gail H is a mother, juggling handing over and picking up schools, PTA chairmanship, chairing the Fundraising Committee for her daughter's elementary school and holding a senior position at her job. Would like to request an additional 6 hours a day to work. Also enjoys writing cutting-edge responses to rude emails.