Right next door – at least in galactic terms – neighboring galaxies are dying after being torn apart, and now astronomers believe they have figured out why.
An international team, including scientists from the University of Western Australia, has studied some of the galaxies that make up the Virgo Cluster, a group of galaxies that are the closest such cluster to the one containing our own Milky Way.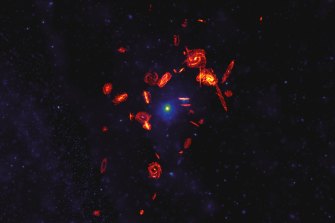 Most of the galaxies in the Virgin Cluster are smaller than the Milky Way, and they all need space in what is also a very inhospitable area in space, with huge rays of plasma sweeping through the cosmic environment.
Research co-author Claudia Lagos, an astronomer from UWA's node of the International Center for Radio Astronomy Research (ICRAR), says the galaxies have been stripped of the dense cosmic gas forming new stars.
Dr. Lagos says the team now believes that a combination of these huge plasma currents and the effect of so many galaxies being packed into the same space is to blame for removing that gas, which effectively "kills" the galaxy.
"When they travel through this environment, many galaxies get that gas removed, which means they cannot form new stars. The process appears to be very efficient," she said.
"In addition, you have the gas itself, which behaves differently from the clouds we see in our own galaxy. So they do not even form as many stars as the clouds in our galaxy."
Dr. Lagos said they gained the insight by using the Atacama Large Millimeter / Submillimeter Array (ALMA) in Chile to get accurate readings of gas concentrations in 51 of the more than 1,000 galaxies that make up the Virgin Cluster.
"Carbon monoxide is layered through these dense gas clouds, so we use it to track these clouds using the antenna array and transform it into a complete map of gas in a given galaxy," she said.