In a sentence: native Australian cuisine in the middle of Fed Square
The damage: small $ 14-25; share dishes $ 30-45
Top tip: taste the house's hot sauces, then buy your favorite on the way out
#Eat Curious: Neptune's beard? Breadfruit? Wild boar? You are guaranteed to taste something new here
Quench your thirst: creative cocktails and Australian spirits, wine and beer
If you like this: try the Mabu Mabu cafe in Yarraville
There is a lot to love about Big Esso. Let's start with the fact that this is the only place you can eat an emu steak and drink green ant-martini. But if you are visiting for news value, you are here for the wrong reason.
Big Esso is the second eatery of Torres Strait Island-born Nornie Bero, who also has the Mabu Mabu cafe in Yarraville. She takes native Australian ingredients and heroes them in a way that is fun, accessible and affordable. Native ingredients usually have a tasting price at fine restaurants like Attica and Vue de Monde. At Mabu Mabu, Nornie adds them to brunch, while Big Esso would compete with other restaurants regardless of their original roots. As Nornie has told me several times, she wants to put her legacy on a plate because it's amazing, not because it's kitsch.
Big Esso means "the biggest thank you" in Nornie's local language on Mer Island, which is probably the opposite of what she was thinking when Melbourne was locked down in August, less than a week after it opened. Big Esso set up a snack bar selling emu kabana and wallaby salami, but the grand reopening brought with it the festive island vibe that Big Esso originally set out to create.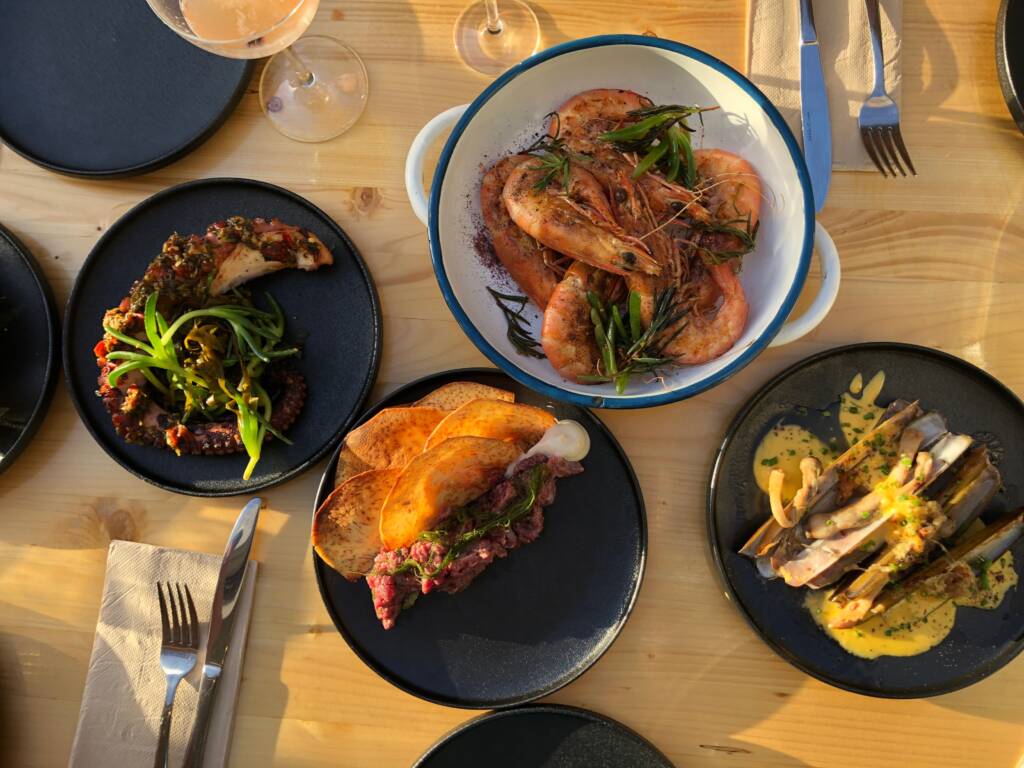 There is modern native art on the walls and indoor tables, neon signs, staff in pink t-shirts and someone constantly mixing cocktails at the bar. On a sunny day, there are plenty of tables out front in the middle of Fed Square that take up all the action.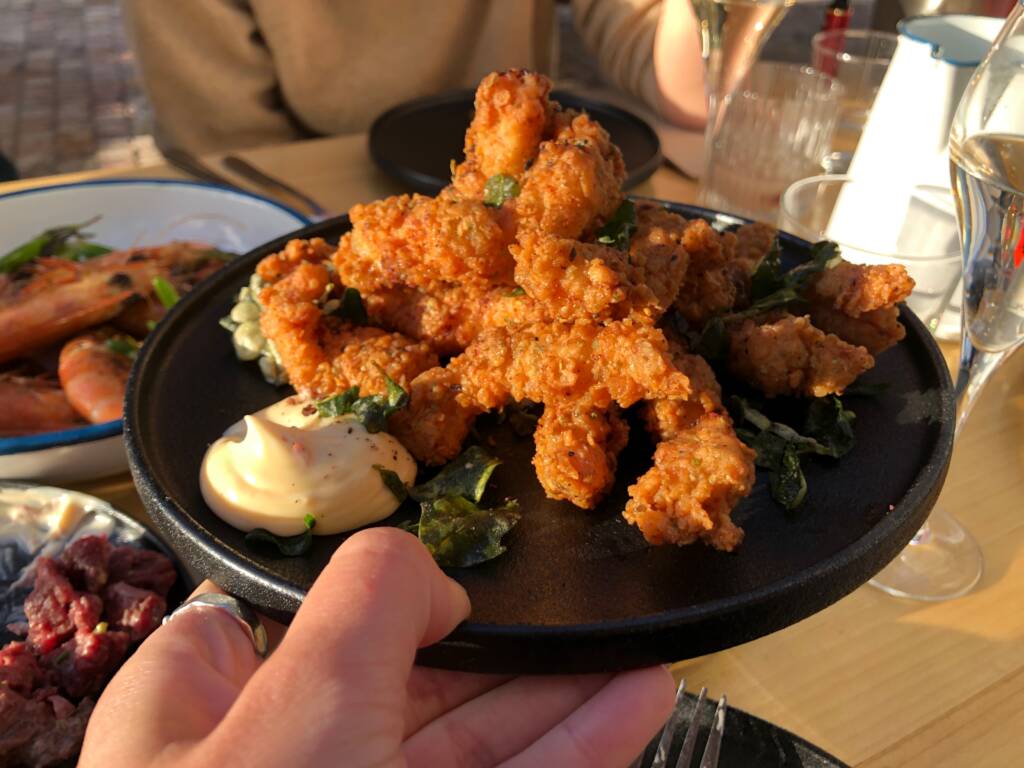 Back to the food. When I last visited friends, I was given the task of ordering, as usual. That meant I was able to tell a couple of discerning eaters that the fried chicken they just inhaled was actually saltbush and peppercorn fried crocodile. We also shared kangaroo tartar with smoked oyster aioli and giant, woody taro chips; a tender lemon aspen charred squid tentacle served with nam jim made with desert lime; oblong razor clams drizzled with light yellow, umami-fied sea urchin bisque; and saltbush damper, wrapped in the banana leaf in which it is cooked.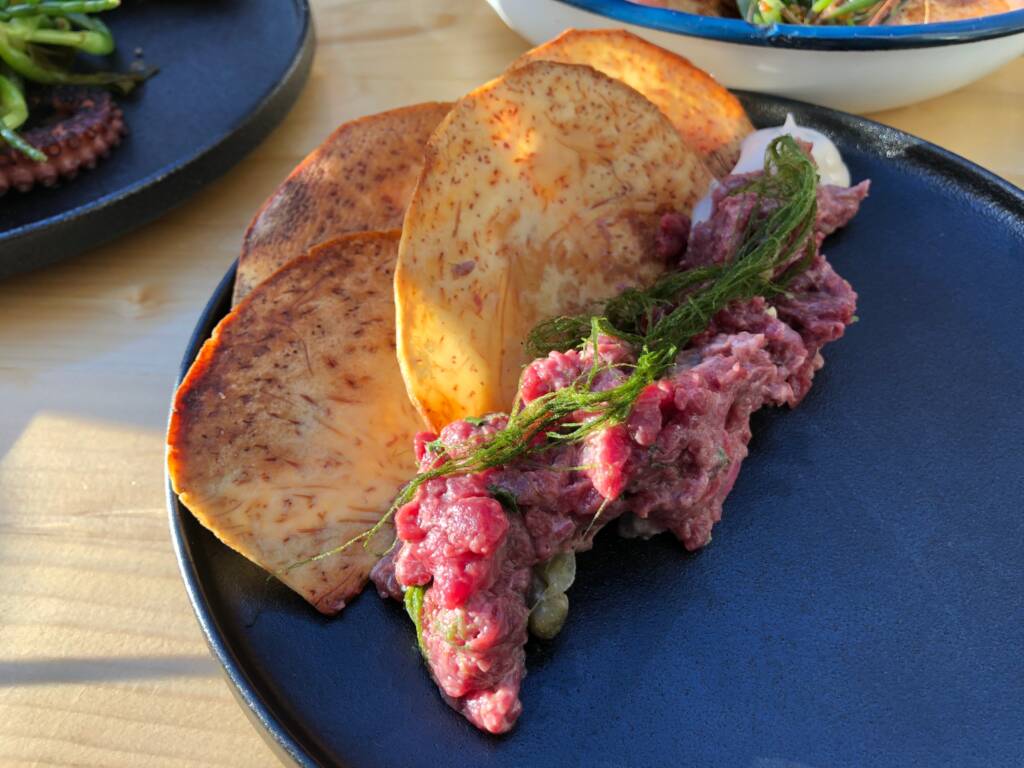 I've also had the char-grilled shrimp a few times now. They are fat, juicy, and I can not help but suck them on the head to the horror of my dining companions. They come with ocean succulents and the full range of house hot sauces. The emu fillet is also a winner. It's not as gamey as one might expect and lies somewhere between steak and 'roo'. Served medium rare, it comes with a spicy saltbush chimichurri and sticks of fried sugar cane on top (chewing is encouraged).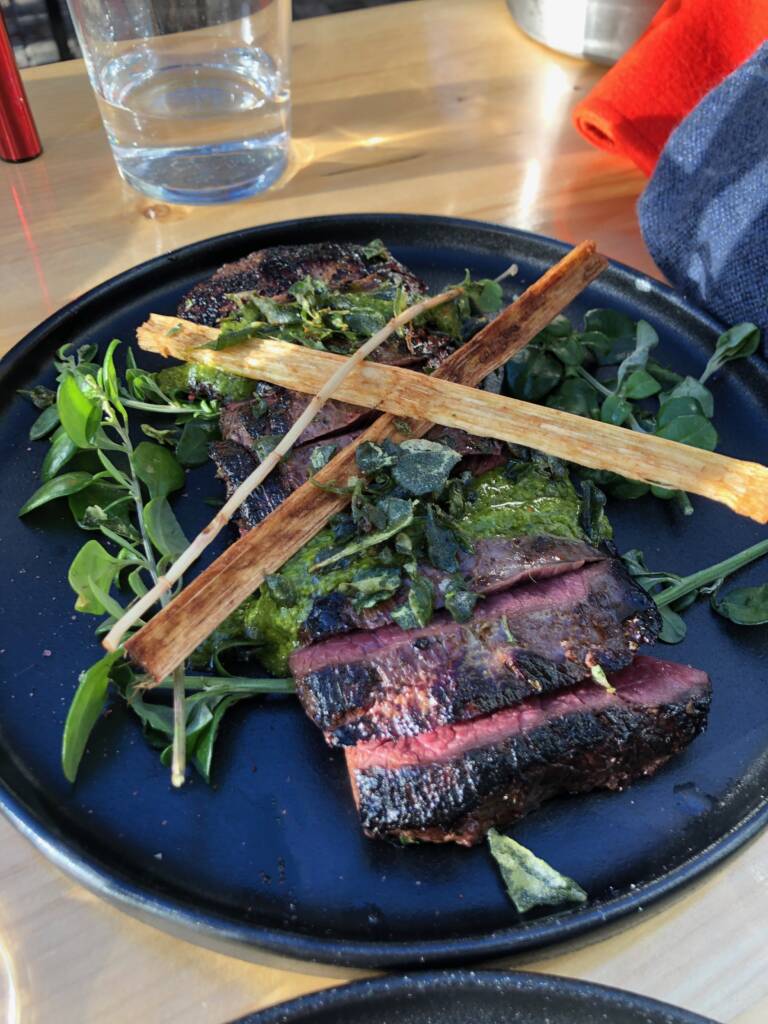 The drinks menu is ingenious – fully Australian, sustainable and socially driven. You may recognize winemakers like Vasse Felix, Tarrawarra Estate and UNICO Zelo, but make room for exciting drinks behind the bar and a large selection of non-alcoholic drinks, such as Sobah's lemon pilsner and pepper IPA. When it comes to cocktails, a green ant-ini is a must. It's made with Seven Seasons Gin (from former AFL player Daniel Motlop) and adorned with a few ants. There is also a pepperberry bloody mary featuring house sriracha, pickled karkalla (pork face plant) and Seven Seasons Native Yam Vodka and an Island Spiked Tea that you can order in a jug (wild hibiscus, strawberry gum leaf, lemon and cinnamon myrtle, Axel vodka , strawberries and mint).
Big Esso is the latest project for Nornie, who has been in hospitality for about 20 years. She first started cooking with native ingredients when she opened the deli version of Mabu Mabu at the South Melbourne Market back in 2018. Within a year, it had moved to Yarraville as a cafe and she has been in demand for masterclasses, catering, new venues and an upcoming cookbook ever since. Her enthusiasm and social awareness is contagious, her food innovative but familiar. Great Esso indeed.
Store Esso
Federation Square, Melbourne
mabumabu.com.au