Although it was Rennie's first loss to Jones, the pattern of the game was very close to the defeats that Michael Cheika experienced.
While they were far from the better side through the first 40 minutes, James O'Connor kicked four penalties to ensure the Wallabies were only 16-12 behind at the break.
But after the break, the Wallabies crumbled after the same script from the seven defeats that preceded Sunday's showdown. England's calm and pressure proved to be superior and late points pushed the goal line out to a comfortable margin.
In the eight tests since the Wallabies last beat England, Jones' team has collected an overall score of 171-63 in the second half alone.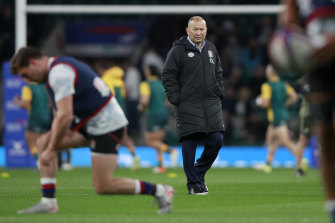 To put it in a further context, the overall score through all eight first halves is 111-88 in England's favor.
The almost bankable gap between the Wallabies' first half and second half standard was hinted at by Jones in the run-up to this match. He suggested the match would be won in the last 20 minutes and he was on the money. With 20 left, England led just 19-15.
That was when Rennie's team started treating the ball with ignorance, and on an already undisciplined night where they lost two players to the sin team, the Wallabies were duly punished. Owen Farrell received two more penalties and a full-time attempt led England to finish with a 17-point margin of victory.
"We just made too many mistakes and stupid punishments," Rennie said.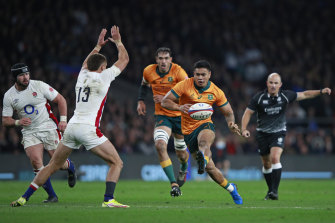 "They put us under pressure. Frustrating, but there was a lot of character shown tonight. Not accurate enough, not good enough tonight."
Jones said the Wallabies should be proud of the effort.
"They hung in there – we were just too strong for them in the last 20," Jones said.
"If you look at what's ahead for Australian rugby, then they have the World Cup 2023 in France, the (British and Irish) Lions are coming in 2025, and there has probably been a handshake that they will have the World Cup in 2027. So they have a lot to look forward to.
"The Australian sports environment needs a strong Wallabies – and the world rugby environment needs it too.
"So you have to be positive.
Loading
The injured Wallabies travel to Cardiff to face Wales in the final Test of the season.
They will probably be without Hooper, who suffered a foot injury and limped off the field in the 55th minute.
Alaalatoa – who is expected to return to the final match of the year along with Taniela Tupou – and White are the leading candidates to take temporary control of the leadership.