Professor Thomas Maschmeyer sat on his porch with colleagues, planning how they could revolutionize battery technology that had existed for nearly 140 years to make it cheaper and more efficient than other options on the market. They did not know that their idea would be worth millions of dollars six years later.
Gelion, a British-Australian battery technology company, originally formed by Professor Maschmeyer at the University of Sydney, is preparing to increase the production of their zinc-bromide Endure batteries. The creators say these will help decarbonize the electricity market and reduce the cost of storing excess renewable energy.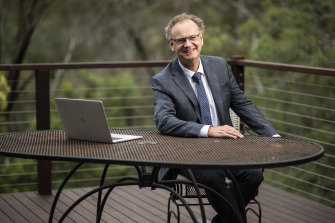 One of the biggest drawbacks of zinc bromide batteries is their inability to ignite and their suitability for harsher climates. This makes them ideal for bringing power to regional communities.
In a big leap, the company, which now has partners abroad and employs 30 people, is expected to launch a listing on the London Stock Exchange Alternative Investment Market on 30 November. Gelion's market capitalization will be $ 285 million with a share price of 145 s.
Loading
While batteries using a zinc-bromide combination were patented in 1889, it has required innovative chemistry to develop the materials into a gel that is safer, longer-lasting and potentially much cheaper than existing alternatives, such as lithium-ion storage.
"[The Australian government] has a role to play in supporting the new economy, supporting renewable energy at low electricity prices, supporting jobs and paying dividends in investments in the public sector – it is not a black hole, "said Professor Maschmeyer. "It helps to show that Australian technology has come to stay and is globally competitive."
Funds raised will be used to develop the Endure battery for stationary renewable energy storage and support further research into Professor Maschmeyer's recent project, which aims to make lithium batteries safer, more energy-efficient and more usable for electric vehicles and electric aviation sectors.
The announcement marks the first time that a spin-out company from the University of Sydney has been listed on any stock exchange. The company hopes to reach a zero point on an earnings basis by the financial year 2024.