Climate change is the dominant factor causing the growing size of bush fires in Australia's forests, according to a landmark study that showed the average annual burned area had grown by 800 per cent in the last 32 years.
The peer-reviewed research of the National Science Agency, CSIRO – published in the prestigious scientific journal, The nature – revealing evidence showing changes in the weather due to global warming was the driving force behind the boom in Australia's bushfires.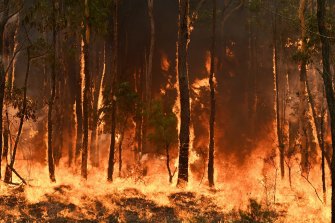 Lead author and CSIRO chief climate researcher Pep Canadell said the study established the link between the Forest Fire Danger Index – which measures weather-related vegetation dryness, air temperature, wind speed and humidity – and the rise in area of ​​forest burned since the 1930s.
"It's so tight, it's so strong, that when we have these major fire events, they are clearly controlled by the climate and the weather," said Dr. Canadell.
Prime Minister Scott Morrison took to the COP26 climate talks in Glasgow to commit Australia to achieving net zero emissions by 2050 and to upgrade his expectations for Australia's carbon reductions by 2030, but he defied a global push to commit to phasing out use of fossil fuels. Instead, the coalition government is backing a significant expansion of the gas industry, which it predicts will be 13 percent larger in 2050 than it is now.
Under the federal government's gas industry strategy, taxpayers will support the private sector in developing viable new gas fields and developing a comprehensive network of new pipelines and associated infrastructure.
The Royal Bushfire Commission identified climate change as a major risk to the ongoing bushfire disaster, but did not make recommendations to reduce greenhouse gas emissions to stem the threat.
The CSIRO report found that other factors influence the extent and intensity of bush fires, such as the amount of vegetation or fuel load in a forest, the time elapsed since the last fire, and the risk reduction of burning. But Dr. Canadell said the study showed the link between weather and climate conditions, and the size of bush fires was so narrow that it was clear that these factors far outweighed all other fire drivers.
"Almost no matter what we do, the overall extent of the fire is really dictated by these climatic conditions," he said.