Former Road Minister Duncan Gay says the NSW government's decision to remove warning signs from mobile speed cameras was wrong and that the technology should not be used to get caught.
Sir. Gay, who was NSW Road Minister between 2011 and 2017, appeared for a parliamentary inquiry into speed cameras on Monday.
He said that although he believed the government had acted in good faith to remove the signage, it was not the right decision.
"I think it's a wrong decision, it's not the decision I made on the basis of the evidence before me at the time, but I think they made it in good faith with the advice they have had at hand, "Gay said. said.
"Speed ​​cameras are important, but they should not be there to be caught. They should be there for security reasons. "
Sir. Gay said the government had to hold society back and questioned whether signs would be removed by red light cameras in the future. Gay as Minister of Roads in 2015 made mobile speed camera vehicles more visible.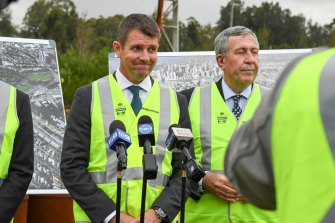 In response to Mr Gay's comments, Transport and Roads Minister Rob Stokes said: "The government is always willing to listen to new ideas when it comes to road safety. We will be interested in seeing the results of the Staysafe inquiry."
Opposition road spokesman John Graham said fine revenues from mobile speed camera violations of less than 10km / h rose from $ 2.3 million in 2019/20 to $ 23.3 million last fiscal year.