Thousands of protesters have gathered in Melbourne's CBD and camped outside the state parliament in recent weeks to oppose the state's proposed pandemic law.
The Ministry of Health confirmed in a statement that of the cases, 16 were unvaccinated, two were partially vaccinated and one was fully vaccinated.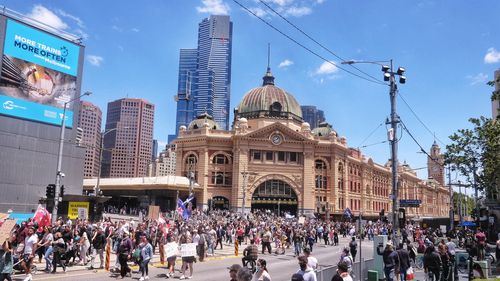 "One case participated in their presymptomatic period after their presence at the protest in a social gathering," the department said.
"This social gathering is now an outbreak, with 10 confirmed cases linked so far.
"We remind all Victorians to get a COVID-19 test if they have symptoms or if they have been in contact with someone they know has COVID-19."
Victoria registered 1007 new cases of COVID-19 today and three more deaths.
The number of admissions is 300 people, with 45 patients in the intensive care unit.
More than 90 percent of Victorians are fully vaccinated against COVID-19.
Meanwhile, the state is on alert for the new
Omicron strain
of the virus, although the department has said that so far only negative test results have been received from travelers arriving from countries of concern.
Health authorities last night interviewed a case from New South Wales who traveled to Victoria while infected after being in a problem country.
The asymptomatic traveler was fully vaccinated and tested positive for COVID-19 in NSW.
Genomic sequencing is underway to determine the variant of the virus.
But the department announced it was taking "a conservative approach" requiring a number of their close contacts to be isolated for 14 days.