The cumulative effect of natural disasters and the Covid-19 pandemic has increased fatigue and stress among volunteers in regional Australia, making it harder for them to provide important support in the community, a study has found.
The Foundation for Rural & Regional Renewal (FRRR) says that the resulting burnout among community groups could lead to greater isolation and loss of critical services in regional areas if more flexible funding options and better support are not offered.
Natalie Egleton, CEO of FRRR, says these groups are the "backbone and structure of these communities" and are responsible for everything from leisure and arts institutions to emergency services as well as support for the homeless and those experiencing domestic violence.
"You walk into any regional, rural or remote city, pretty much everything you look at from the art, the maintenance of halls and buildings, every event you go to, the local community groups are behind it," Egleton said.
The report showed that the social and cultural role played by community organizations is crucial despite the limitations of their resources. More than half of the nearly 640 responding community organizations employ unpaid staff, are run by volunteers, and have a turnover of less than $ 50,000.
In their first survey of the rural non-profit sector, the FRRR engaged an independent survey expert who ran an open and anonymous survey targeting members, volunteers and employees of grassroots non-profit organizations, excluding anyone from major cities.
More than half of the groups provided activities to help improve the mental health and well-being of their communities, either directly (59%) or indirectly by combating social isolation (57%), while just under half (46%) also provided activities to help maintain the physical health of their communities.
The report found that these organizations struggled to remain operational due to the impact of constant disruptions over a long period of time, including droughts, fires, floods, a mouse plague and the pandemic, which served as "the last resort" for many.
As a result of Covid-19 restrictions, about one-third of community organizations have either reduced volunteer hours, lost volunteers altogether due to illness, isolation, relocation, or care responsibilities, or lost them due to lack of need.
The report showed that over a fifth of respondents simultaneously said their volunteers work more to handle greater demand.
Egleton said that as "the number of volunteers declines, a smaller number of people are left with a larger amount of work, and often they are not paid for it".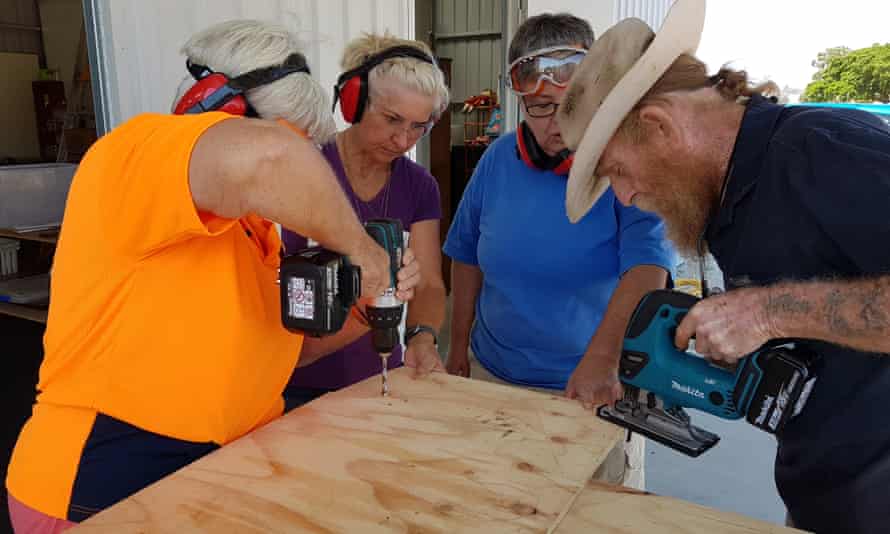 Sara Jenkins, a coordinator at the Corryong Neighborhood Center in the northeastern part of Victoria, said the center has been "absolutely hammered" since the pandemic that came after the community was devastated by the black summer bush fires.
"They used to come in and say, 'Someone told me you could help with x or y.' Now they just come in and say, 'I need help,'" Jenkins said.
Before the forest fires, the center was focused on more traditional housing activities centered around social inclusion, education and welfare support.
But now it needs to concentrate on providing society with essential services related to unemployment, forest fire and disaster recovery projects, digital skills and a "huge" number of mental health issues, Jenkins said.
Financing and internet problems
The center is one of many community groups that FRRR's research found had increased demand for their services during the pandemic, while Covid-19 had hampered their normal fundraising income.
Before the bush fires, the Corryong Neighborhood Center experienced 15-20% annual growth through its social bakery, which was able to supply 85% of its revenue.
But revenue from the bakery and workshop has "fallen off a cliff" with no tourists and with lockdowns in the area, Jenkins said.
The research showed that community organizations were frustrated that they can only access project-specific funding while there is never any help to cover the basic operating costs.
"There is a clear call for action from this report that the organizations themselves should be funded, not just the project," Egleton said.
One of the basic operating costs that became more pressing in the midst of the pandemic was basic digital connectivity, with approximately one-third of all respondents reporting either no internet access or unreliable coverage.
Before the pandemic, groups could meet and talk face to face, but Covid restrictions and unreliable internet coverage have meant that many national community groups have not been able to continue their activities.
"An organization or facility in the city may have OK Internet access, but their volunteer base or community members probably do not have that access," Egleton said.
Penny Judge, a volunteer at Craigie Community Hall and Delegate School of Arts in New South Wales, also believes that solving structural problems is crucial.
"Community groups are increasingly being called upon to close the gaps left by the government, but they just do not have the resources to do so," the judge said.
"Finding a deep commitment to society is increasingly difficult when the family unit is constantly under pressure due to lack of basic services, job insecurity, stagnant wages, aging populations and the youth's drive to the cities."
The FRRR study recommended that funding bodies give local communities greater flexibility in how and when funding can be used. It also recommended that the funding process be streamlined and simplified and that security be provided for long-term funding.
Community groups also want access to training and greater external support to help them function.
"The study tells us that if organizations are better resources with equipment and staff training, organizations will do much more and much more efficiently," Egleton said.
The Narromine Aviation Museum in NSW, which is run exclusively by volunteers, is Shire's biggest tourist attraction, according to museum chairman Peter Kierath, who is trying to encourage volunteers to attend after the number dropped during the shutdown in western NSW.
The museum brings strong economic benefits to the city, Kierath said. "People who come specifically to Narromine to see the museum will go down to the local cafe for coffee and a meal. They might as well stay overnight."
FRRR research said that without social groups "in some cases, society simply would not exist".