Westpac believes that a technology overhaul will further cut approval times across the lending giant, as an increase in mobile banking and growing fintech competition is forcing banks to offer much faster credit ratings.
Chris de Bruin, CEO of Westpac's flagship retail and consumer companies, has also signaled in an interview with Aging and Sydney Morning Herald that the bank is not in a hurry to enter the cryptocurrency market and it remained bullish in its outlook for mortgages despite recent rises in fixed interest rates.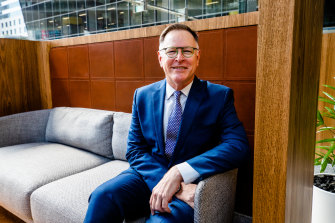 Westpac will this week release new figures underlining the dominance of banking on smartphones and tablets as it also rolls out a renewed banking app to more than 800,000 customers using Android phones.
Sir. de Bruin said growth in mobile banking was an "irreversible trend" that made digital investing a critical priority as Westpac seeks to reverse a period of poor performance by simplifying products and improving its technology.
In many cases, he said, banks were now judged on how they fared with fintechs and even non-financial corporations. When the bank recently prepared a move to offer a zero-interest credit card aimed at younger customers, he said the background was the time it takes to subscribe to a service like Netflix.
"People are used to getting answers quickly. You can sign up for a subscription service online very quickly, so when we leaned into the subscription credit room, which is a subset of the buy-now-pay-later space, our standard was how fast you can sign up for a subscription product in the world, whether it's a Netflix or another subscription product? "he said." And it's typically two to three minutes. "
Sir. de Bruin said the technological changes that had allowed this particular product to be approved in minutes would now be rolled out more widely, resulting in credit card approval times also being cut.
Speed ​​is also a crucial battleground in mortgage lending, and the bank is rolling out a digital mortgage. Sir. de Bruin said that in the long run, loan applications will inevitably become more "self-governing" and digital, with staff spending less time processing paperwork and more helping customers.