On the morning of the shooting, a teacher discovered a drawing made by Ethan Crumbley depicting a handgun, a bullet and a bleeding figure. The words "Blood everywhere" and "Thoughts will not stop – help me" were also written on the sheet, among other messages, according to McDonald.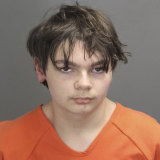 "It's impossible not to conclude that there is reason to believe he may hurt someone" based on the drawings, McDonald said.
James and Jennifer Crumbley were called to the school, where they were asked to get Ethan for mental health counseling within 48 hours, McDonald said. They "resisted" the idea of ​​taking their son home from school and did not search his backpack or ask him about the gun, she said.
He returned to class and later walked out of a bathroom with the gun, killing four students and injuring seven other people, authorities said.
When the news of an active shooter at the school broke out shortly after noon. A few minutes later, James Crumbley called police to report that the gun was missing and he thought his son might be the shooter.
The gun had been stored in an unlocked drawer in the parents' bedroom, McDonald said.
It was not immediately clear whether James and Jennifer Crumbley had legal representation.
Parents are rarely charged in connection with children's school shootings. Unlike some states, Michigan does not legally require gun owners to keep their firearms safe from children.
The attack is the latest in a decade-long series of mass shootings at U.S. schools.
Ethan Crumbley has been charged as an adult even though he is under 18. Under Michigan law, prosecutors have the ability to target young people as adults when they commit certain violent crimes.
Authorities have previously said the shooting was premeditated with reference to video footage and a journal they found in which he described his intention to shoot students.
Reuters