Preliminary data from South Africa, the epicenter of the outbreak of the Omicron variant, do not show a resultant increase in hospital admissions, said the United States' top COVID adviser.
"So far, it does not appear that there is a high degree of seriousness in it," said Dr. Anthony Fauci on Sunday, while warning that it is too early to be sure.
Although Omicron has spread to at least 16 U.S. states, Fauci said he hopes the ban on travelers from South African countries can be lifted within a "reasonable period of time" as more information is gathered about the Omicron variant.
In Europe, France will try to avoid new health rules, including a lockdown, while Britain was forced to defend a repression of travelers entering the UK.
The UK decision to force all travelers entering the country to take a COVID-19 pre-flight test, which threatens to increase the high Christmas season for airlines, reflects a "balanced approach" given the threat posed by the Omicron variant , Deputy Prime Minister Dominic Raab.
The government announced on Saturday night that all travelers, regardless of their vaccine status, must take a test within 48 hours of their departure for the UK. The move comes a week after the first Omicron cases were confirmed in the UK, prompting the government to require a PCR test within two days of arrival.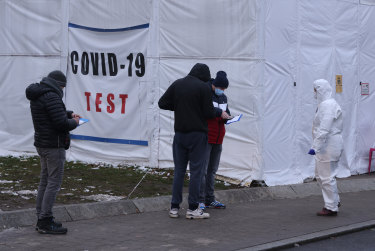 "The general reintroduction of tests to enter the UK, on ​​top of the current regime of isolation and PCR testing on arrival, is completely out of step with the rest of the world," British Airways said in a statement on Saturday.
The UK said on Sunday it had identified 86 new cases of the Omicron coronavirus variant, bringing the total to 246. It reported 43,992 new cases of COVID-19 and 54 deaths within 28 days of a positive test for the virus.