Brisbane's Cross River Rail project has opened the door to a transport history that closed 54 years ago.
Where locomotives once hauled coal through Woolloongabba, an underground station is being built to supply cricket and AFL fans to Gabba and help locals with their daily commute. By 2032, this station will also be the center of the Brisbane Olympics.
At Woolloongabba – directly under the old locomotive farms – the cave to house the underground station has been lined. The work was inspected Monday morning as Cross River Rail executives were eager to showcase the massive infrastructure project.
For some, the memories of steam trains and horse-drawn trams are being replaced by visions of electric trains under the streets. Woolloongabba has been shaped by the old modes of transport, which now create opportunities for urban renewal.
In September 1967, the misspelled "Wooloongabbba" locomotive yard closed after servicing coal trains that ran between the Ipswich coalfields and the nearby South Brisbane quays for more than 130 years.
The yard was on Main Street at Woolloongabba Fiveways, where Logan Road met Stanley Street, Main Street and Ipswich Road – a barrage of trains, trams, buses, workers and residents.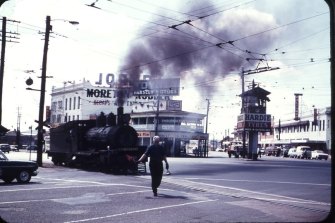 The railway line ran from Boggo Road station at Dutton Park to "Wooloongabba" with an exit line running to the South Brisbane Quay where the Queensland Maritime Museum is today.
The $ 5.4 billion Brisbane's Cross River Rail project route traces almost the original route, albeit on its way underground to new stations and eventually the Ekka showgrounds.