Queensland Premier Annastacia Palaszczuk has announced that she will make a "major announcement" today, fueling speculation that the state will open to the rest of Australia sooner than expected.
Ms Palaszczuk took to social media this morning, urging the Queenslanders to tune in to her press conference at 2pm, Brisbane time today.
Queensland is preparing to open its borders on December 17, or when the state reaches its 80 percent double-dose vaccine target.
With vaccination rates creeping up, it is now predicted that the state will reopen this week.
The state currently sits at 78 percent fully vaccinated and is likely to tick over to 79 percent this afternoon or early tomorrow.
That
premiums have maintained
that when the state reaches the vaccination milestone, it will trigger a full border reopening with COVID-19 hotspots.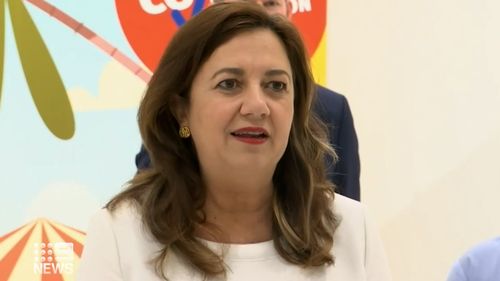 The milestone, originally scheduled for December 17, would mean the abolition of quarantine for vaccinated domestic arrivals.
However, travelers entering via road or air from hotspots are expected to return a negative test 72 hours prior to arrival in the state.
"We need to reunite families – this is fundamental," Mrs Palaszczuk said back in October.
Federal Finance Minister Simon Birmingham said this morning that it was possible Queensland would reopen earlier for hot spots than December 17, which would be a welcome early Christmas present for many.
"It seems they can bring the decision forward," he told Today.
"Of course, many thousands of Queensland small tourism businesses and operators hope that could be the case."
However, Queensland president of the Australian Medical Association Chris Perry warned that indigenous communities would be in danger if the state opened ahead of the milestone.
"Aboriginal management has suggested perhaps waiting a little longer to get the vaccines in their pockets, where vaccination levels are still well below 80 percent," he told Today.
Dr. Perry said unvaccinated people were at greater risk of getting the Omicron COVID-19 variant.
"Omicron is much more contagious. We'll have to see what it's like with its mortality."