The organizers of a recent protest against vaccine passes at Vancouver General Hospital (VGH) have quietly changed the location of a repeat protest scheduled for early next week.
Earlier this week, the group behind the protests, Canadian Frontline Nurses (CFN), announced that another protest was to be held at VGH on Monday, September 13th.
So early Friday morning, the group posted an edited flyer on their Facebook page. They changed the protest site to Vancouver City Hall and turned the event into a silent guard. Supporters are asked to bring a flower or note to them "affected by COVID measures."
Despite the change of location, traffic jams can still be a problem. The September 1 protest, dubbed the World Wide Walkout and mainly billed as opposition to vaccine passes, saw thousands of protesters take to the streets outside City Hall, just a few blocks away from VGH.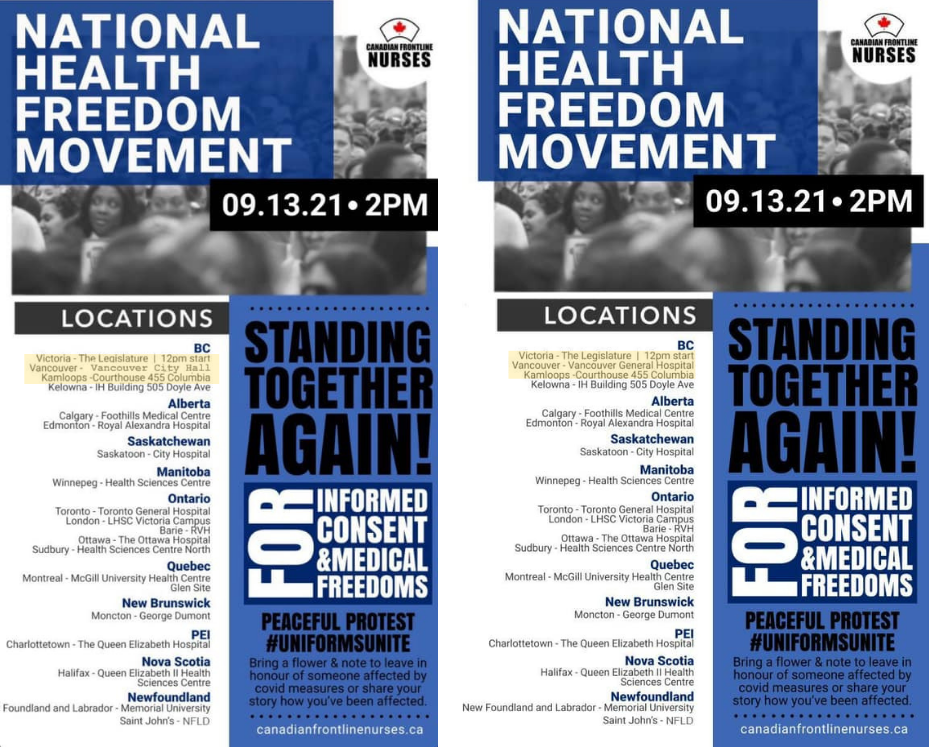 According to the latest flyer, protests at other health centers across the country are still ongoing. In fact, BC is now the only province in Canada where a CFN-organized protest will not be held in a hospital or medical center.
On Thursday, the CFN issued a letter defending the controversial Sept. 1 protests, saying it was not an attack on health professionals or patients inside, despite the protests at VGH that disrupted both patients and nurses.
Although there was no explanation for the change in the protest site, the CFN has received widespread condemnation not only from individuals in local and provincial governments but also their own supporters.
'An absolute right to dissent'
BC Health Minister Adrian Dix spoke about the planned protest under a media available Thursday afternoon.
"There is an absolute right to dissent in our country. You are allowed to express your position, but to mingle with cancer patients and heart patients and grieving families and people who need to use the emergency rooms … There are places to demonstrate these are not our public hospitals, "Dix said.
"I think it serves no purpose to demonstrate under these circumstances and interfere in our hospitals and shout at health professionals," Dix continued.
Similarly, Vancouver's Mayor Kennedy Stewart also condemned the protesters' actions, calling them a "new low."
Stewart said he has been in talks with Vancouver's police chief and the local health authority to keep the path to VGH free of emergency vehicles.
"It will take a lot of resources away from other police cases in the city, but we want to keep access to the hospital open, and that will be the primary goal," Stewart said.
'Let the hospitals be'
The main message the mayor wants to send to the protesters is simply to stay away from the city's hospitals.
"March down Cambie Street, cross the bridge, spout the horns, tell us all about your anti-wax nonsense and then just go home," he said. "@kennedystewart is my Twitter tag, send me something, tell me how angry you are, but let the hospitals be. "
As for VGH itself, Vancouver Coastal Health addressed the possibility of yet another protest during a recent statement to Vancouver is amazing.
"Although we recognize the right of people to protest lawfully and peacefully, we ask people to avoid gathering at VGH or another emergency center to protest," the statement said. "These actions can be disruptive to both staff and the public seeking care."
"Vaccines remain a critical tool in stopping the transmission of COVID-19 and keeping ourselves, our loved ones and our communities safe."