Opposition leader Anthony Albanese rejects claims by the Liberal Party that he will have to accommodate the Greens in a minority government.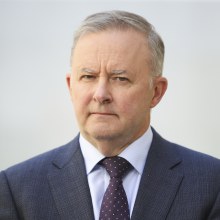 Scott Morrison said this morning that if the Albanians were to win the looming election, Australia would have a Labor-Green government.
Albanese told radio 2SM that the proposal was "complete nonsense".
"There is only one coalition in Australian politics. And that is the dysfunctional coalition between the Liberals and the Nationalists.
"Labor is seeking to form a government in our own right. We are the largest political party in the Folketing now. We are in 68 seats. We need another eight to form a government in our own right, which is definitely our only motivation.
"The difference is that when we are elected, I will work with anyone across Parliament, not in a coalition, but to say that we have a mandate for our policies, including people in the Liberal and National Parties, people. at crossbench, of course, everyone has called for climate action. "