Loading
"I've known Pat for a long time, we get along really well, we're good mates, so we're able to have open and honest conversations and help move this team forward. It is an exciting time. "
As Australia's No. 4 batter, Smith has recently been reunited with Michael Di Venuto, the coach who guided him through the period between 2013 and 2016, when he became the outstanding performer known worldwide.
"His philosophy is not to train everyone the same," Smith said. "He is very different with everyone, the way they play and he encourages everyone to find the way they want to play and just get better at it and he will help you through it.
"He's so calm, the way he does his business and the way he communicates. I still remember today what he said to me back in 2013 where I had not scored the races I wanted and he said : 'You are not out of shape, you are out of running and there is a difference'.
"I've also shared it with others before. There's a difference if you hit the ball really well, translate it into runs, sometimes it does not happen completely. But if you keep the faith and keep doing the same things again and "Again, things will turn around for you. Having his wisdom and knowledge around him is very valuable to this team."
That advice from 2013 was followed by a shooting star with scores that could hardly be compared. Over the next three years, before Di Venuto left the team to become head coach of Surrey, Smith played 27 Test matches and totaled 3,027 runs to 77.61 with 13 hundred. It seems like a very appropriate time for the relationship to resume.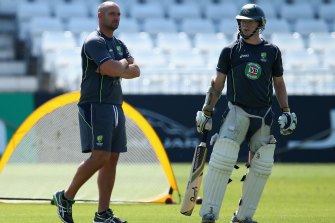 "The start of an Ashes series is hugely important, to try to put your best foot forward and get ahead of the series," Smith said. "Hopefully we can replicate what we've been able to do in the last couple of series and win the first test match, and move on from there and build momentum.
"The center-wickets we've had, the bowlers have steamed at full tilt, and it's been really competitive. We wish we had started four or five days ago, we've had a pretty long preparation and the guys are struggling to go out and get started.
Something else that Smith has experienced before and has missed through two years with the COVID-19 pandemic is a feeling that is a little less complicated than the weight of leadership. It's the energy he's getting from a sold out crowd, the kind he's hoping to see on Gabba.
"Honestly, I can not wait to play in front of a packed stadium again," he said. "It's been a while since we've had a completely full stadium. We love to entertain, we love to play in front of the fans and put on a show. It's definitely different than when there's no one on earth, it's definitely, and the energy and atmosphere created is so different. I am looking forward to it."