Rolling strike action will reach a crescendo on Tuesday as bus drivers in parts of Sydney and train drivers and teachers across NSW all leave the job.
Commuters from the inner west faced major disruptions on Monday as 60 bus routes were affected by 24-hour trade actions carried out by around 1,200 drivers and members of the Rail, Tram and Bus Union and Transport Workers Union NSW.
Internal Western light rail replacement bus services instead of the fleet of disused cracked trams were not affected.
Similar action will follow on Tuesday with a 24-hour strike by around 300 drivers in south-west Sydney, at the Smithfield and West Hoxton depots in region three of the network.
The following routes between Parramatta, Liverpool and Bonnyrigg may be affected on Tuesday: 800, 801, 802, 803, 804, 805, 806, 807, 808, 809, 812, 813, 814, 815, 8.18, 8.18, 8 ,, 820, 821, 822, 823, 824, 827, 835, 810X, 811X, S10 and T80.
Drivers are seeking equal pay and terms in their negotiations with operator Transit Systems and are asking that those who "do the same job should get the same pay" after the privatization of Sydney's buses has created a two-tier workforce, says TWU .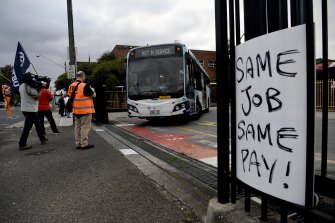 "We understand the inconvenience this may cause some members of the public and it is not a decision that drivers take lightly, but we are confident that society will understand that drivers have not been given any other opportunity to have their say. heard, "says TWU NSW. said Secretary Richard Olsen.
A spokesman for Transit Systems claimed that some bus drivers, including those unwilling to take part in the fighting, had been blocked from leaving the depot on Monday.