A graduation ceremony at the University of Queensland for nurses and paramedics, attended by more than 2,600 people, has been identified as a COVID Omicron cluster.
Chief Health Officer Dr. John Gerrard said Omicron cases had already been identified at the Griffith University ceremony, which took place at the Brisbane Convention Center on Monday, December 13th.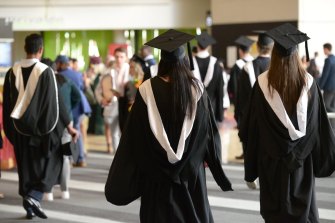 Dr. Gerrard said the exam cohort consisted of nurses and paramedics, and 2,675 people attended.
The site has been considered a random contact from 7.30 to 12.30.
"We have 15 cases so far linked to that event, but we expect more," he said.
"Some of these cases have been identified as Omicron, so it's likely that the whole episode will be an Omicron cluster."
He urged everyone who attended the event to be tested and isolated until they get a negative result.
Anyone who was at the center but did not attend the event is encouraged to be tested, but they do not need to isolate themselves, said Dr. Gerrard.
Dr. Gerrard said paramedics and health workers had also been infected, but that was not unexpected.