"Let him do his job," called Raphaelle Saint-Cyr, who had already been rejected from two clinics in Bondi Junction. "People need to know what's going on."
Prime Minister Dominic Perrottet advised the public at noon on Wednesday not to have a PCR test unless they were ill or had been asked to do so by NSW Health. But all the while, people had reasons to stand in the rain.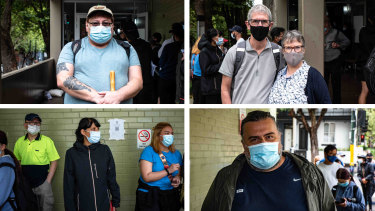 Takkim William Lee, who had suffered from "a little cough" the previous two days, was not allowed to return to his cleaning job at a computer company in Surry Hills until he had a negative PCR test. Unless he was cleaning, the company could not open. He had no idea how he could have been exposed to COVID-19. "I'm not going anywhere, it just happened yesterday," he said. "I was home for Christmas."
Eunice and Trevor Peacock, who were visiting from the UK to visit their newborn grandchild in Adelaide, had been instructed via SMS from Service NSW to obtain a COVID test within 24 hours of their arrival. They had been waiting for more clinics, only to be rejected when they hit capacity.
Nurse Susiyana Gunawan had been sent home by the manager of the nursing home where she worked. Her sister-in-law had been tested positive after they held Christmas together. She had no symptoms but was not allowed to return to work until she did a negative PCR test.
Daniel Lakic was to drive a 27-foot luxury motorboat to Southport in the evening and needed a PCR test to meet the requirements of the Queensland Martime Service. He was excited. It was his first break delivering commercial vessels between ports after being called up Wednesday morning when a crew member reported sick. He arrived at the clinic 20 minutes after opening and waited three and a half hours to be tested, only to have the door closed when he reached as far as the alcove. He also had no belief that the test centers suggested the door would be open.
"Even though they say it's open, it's closed," he said. "I've been to Palmer Street and it was closed, but up on the internet it says it's open. Otherwise I would have been here 20 minutes earlier."
Kristina Almer was tested negative with a quick antigen test, but her boyfriend was tested positive. "I do not go to work until I have had a negative PCR," she said. She had been standing in line for two and a half hours when the doors closed. "We're so close," she said. "They should have told us while we were waiting that the doors would close at 12."
Loading
Erika Nanadiego resorted to getting a PCR after she had not been able to find a quick antigen test at the chemists. She had been at her brother's house for Christmas, and on Monday her sister-in-law tested positive.
"Of course I was nervous," she said. "I do not really have symptoms at all, but just to be sure, I would like to be tested."
As most of the queue drifted away, good news came from the nurse. Maybe they could squeeze some more people in. The door opened again. So did several people walking away from the street. The queue filled up, as did the magic pudding before they were rejected.
The Morning Edition newsletter is our guide to today's most important and interesting stories, analyzes and insights. sign up here.