Under the program, artists, creators and entrepreneurs will fill vacant or closed stores across Melbourne's city council areas to "revive the city and support small businesses," the council said.
Sir. Glorie says his concept is partly inspired by a pop-up project in London called This Grief Thing – a roaming stall and online store that sells products and lectures on the topic of grief.
In The Anxiety Shop, cartoons of Mr Glorie on the wall and on playing cards show how people with anxiety can chew and quarrel with themselves.
A man wearing Speedos and a hat and holding pink pom-poms tells himself that he should "try to be normal" and that he can get a packet of chips as a reward.
A grasshopper describes anxiety as "living with a monster that lives on doubt and robs you of your time".
Sketches for sale depict social anxiety by showing a man holding a wine glass to a party, his tongue hitting the floor because he can not speak, and a llama with an overly long head falling to the floor.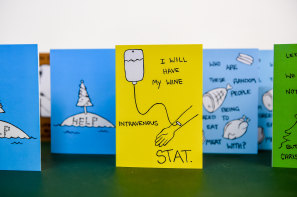 Mug says "Whoosh", which means how emotions can run in and make you feel panicky.
Mr. Glorie, who lives with obsessive-compulsive disorder, said that what helped his recovery was to express his feelings in his art and to talk to other people in the same boat.
He said someone could buy a card in the store and use it to share with friends how they felt when they could not express it in words.
The store's products could also comfort them "that there are others who have similar experiences as you".
Loading
"Because it's when you feel like you're completely alone in your experiences, you can start to worry that you're going crazy," he said.
Glorie claims not to be a counselor and says he will refer people in need to an anxiety resource center.
He says running a store in the Melbourne CBD, where the public criticizes your art in front of you, can also create anxiety.
"But it's worth it," he said. "Learning to live with anxiety is saying, 'I will not let this false alarm signal that my brain is preventing me from doing what I want in life.'"
Loading
The Anxiety Shop, at 89 Bourke Street, will be open Wednesday through Saturday from 11 a.m. to 5 p.m. from January. Sir. Glorie hopes the concept can continue after this pop-up ends, either in real life or online.
A cultural guide to going out and loving your city. Sign up for our Culture Fix newsletter here.