Johannesburg: The omicron variant sweeping around the world is not "the same disease we saw a year ago," says a top immunologist at the University of Oxford, who reinforces reports of the strain's milder nature.
The strain, which was first discovered in late November, appears to be less severe and even patients who end up in hospital spend less time there, John Bell, professor of medicine at Regius in Oxford, told the BBC Radio 4's Today program.
"The horrific scenes we saw a year ago – intensive care units are full, many people die prematurely – it's history now in my opinion and I think we need to be reassured that it's likely to continue. , "said Bell, a leading scientist at the University of England's Astrazeneca vaccine and a member of the British Government's scientific advisory group.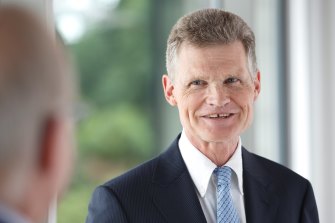 Infections in the UK have risen by more than a quarter of a million in the past week, reaching a record 129,471 new cases on Tuesday (Wednesday AEDT), although figures for Scotland and Northern Ireland were not included.
The United States hit a new record for the seven-day average of new daily cases on Tuesday (Wednesday AEDT): 253,245, surpassing the previous high of 248,209 cases on 12 January.
The total number of U.S. coronavirus cases since the pandemic began has dropped over 63 million with more than 816,000 recorded deaths.
The US Centers for Disease Control has already recommended halving the isolation time for people who test positive for COVID but have no symptoms from 10 days to five.
Professor Bell's comments came shortly after South African scientists published a study showing that infection with the Omicron variant can also boost immunity to the former Delta strain, reducing the risk of serious illness.