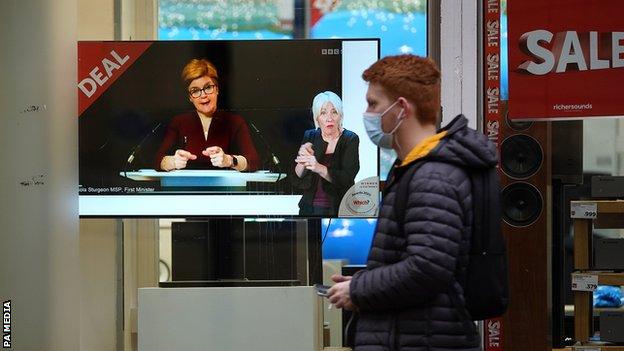 Prime Minister Nicola Sturgeon stressed that drastic cuts to spectators at sporting events are currently "inevitable" following opposition opposition criticism of "disagreements".
Outdoor crowds have been limited to 500 until at least January 17 in an attempt to curb the spread of Omicron.
Similar restrictions are in place throughout Europe, but not in the UK.
"I understand the importance of football and indeed other spectator sports," Sturgeon said.
"The benefits of it are seen in terms of mental health and a whole lot of other ways. No one, including me, takes lightly the decisions we have made during this pandemic."
The Scottish Conservatives' health spokesman, Dr. Sandesh Gulhane, had questioned "disagreements" and said the shopping areas "swell" while football stadiums stand empty.
The Prime Minister replied: "I have tried to explain the rationale for limiting large-scale events. It is about the super-dispersal nature given Omicron's higher transmittability, but also the greater impact these events have on emergency services that are already extensive. is also the risk associated with traveling to and from some of these events.
"It's not easy. Nobody wants to be in that position, but that's why the Scottish Government – like many other governments – has made these decisions and hopefully they will not last very long.
"There is always the possibility of pointing to inconsistency. I'm never sure when questions like that are asked of me whether the argument is that we should not have restrictions on football or we should also have restrictions on malls."
Sturgeon stressed that the principle of staying home more than usual and limiting contact with others applied "regardless of the setting".
"While navigating this latest wave of infection given the speed of transmission, we all accept that some of these things are just unavoidable at the moment, and acting in accordance with the instructions will get us through these things faster than it otherwise would be. "case," she said.
Sturgeon outlined some details of business support, including £ 32m for hospitality and leisure, but sport was absent from the funding list as the situation is monitored.
The Scottish Premier League winter break has been brought forward in order to minimize the number of matches that top fans will miss.
Earlier, Deputy Prime Minister John Swinney had described the rearranged Celtic match against Rangers on February 2 as "far away".
Pressed on whether restrictions on the audience would last more than three weeks, he told BBC Scotland: "We take it as it comes.
"What I want to say is that the government does not want to have these restrictions in place a moment longer than they are necessary."