That
lorry
Driver involved in a collision with several vehicles on the Calder Freeway in Victoria's Northwest that killed a small child and seriously injured several others has been charged.
The 42-year-old Donald man has been charged with criminal driving resulting in death following the accident in Diggers Rest on 6 December.
Investigators claimed the grain truck he was driving collided with a number of cars on the highway near the Bulla Road crossing around 2:30 p.m.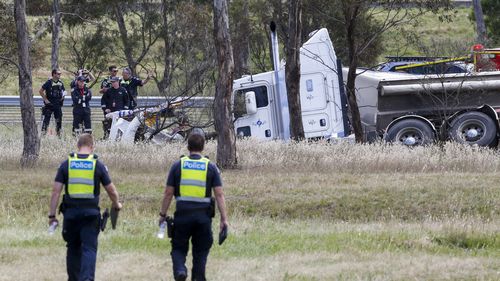 A two-year-old Caulfield South girl, a rear seat passenger in a car with four people, died on the spot.
Her parents and sister, a 35-year-old man, a 37-year-old woman and a one-year-old girl, all sitting in the same car, were all left in a critical condition.
Another driver, a 62-year-old man from South Melbourne who was driving a Toyota Hilux that was trapped under the truck, was also left in a critical condition.
The woman remains in the hospital in a stable condition while others all since have been discharged from the hospital.
The truck driver has been released to appear in Melbourne Magistrates' Court in May.