While rising Omicron cases have put a damper on big festivities, Sydney is ready to start the new year with sunny skies and perfect beach weather.
Summer conditions are expected on both New Year's Eve and New Year's Day, with the CBD expected to reach 29 degrees.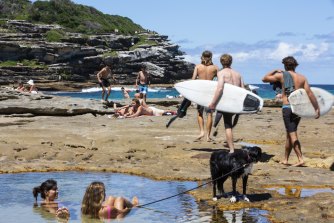 As the city rings in 2022, comfortable conditions with the temperature are expected to be in the low 20s at midnight.
Bureau of Meteorology forecasts Jiwon Park said coastal areas would be slightly cooler than other parts of the city due to fresh ocean breezes.
Loading
"Otherwise just sunshine in the New Year period," he said.
Sunday will be even warmer with peak temperatures of around 33 degrees in Richmond and Penrith. In the CBD it will be around 30 degrees.
"Dry conditions will continue through the weekend … and at least until Monday," Mr Park said.
On Tuesday, a southern change is expected to bring cooler temperatures with the possibility of rain.