A private investment group owned by Fortescue Metals chairman Andrew Forrest has bought a 6.61 percent stake in Bega Cheese, making him a major investor in the dairy company.
In a statement released to ASX on Thursday morning, the dairy and food company announced that the mining magnate's private investment firm Tattarang AgriFood Investments has bought more than 20 million shares for a total consideration of $ 108,325,094 between November 10 and December 29.
Tattarang's chief investment officer John Hartman said the Bega share was a "long-term investment". "Tattarang is committed to investing in Australian companies and brands that showcase the best of our country to the world. Our investment in Bega Cheese Limited is part of this commitment," he said in an email.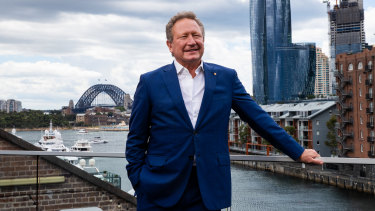 Investors reacted positively to the news, with Begas' share price jumping more than 10 percent in the middle of the morning. They closed the session 3.2 percent stronger at $ 5.50.
"The shareholders see it as a positive sign – it is a good connection [from] one of Australia's most prominent businessmen, "said Saxo Bank Australia's marketing strategist Jessica Amir.
As the explosion in COVID-19 cases keeps workers in isolation for days while they wait for test results and small businesses are forced to close their doors, Forrest's purchase of 20 million shares in one dairy company looks like a safe investment compared to another potential dive into the economy, Ms Amir added.
"We've seen this in the last six months, investors have moved their portfolios to more defensive games – healthcare, staples, fruits and vegetables – things people need, no matter what happens in the economy," she said. "His move today brings it to the surface."
One week ago, Bega Chees' share price fell more than 12 percent after announcing a sour trading outline outlining a number of issues that would hit its 2022 fiscal year.
"These impacts have been extensive and significant ranging from market disruptions in Australian food service channels due to closures, structural changes in the Chinese market for infant and toddler dairy products, significant operational disruptions including factory closures, major changes in operations and logistics planning, increased safety and test regimes," large cost increases and shortages across the entire supply chain, "said Bega.