"He said, 'I'm not coming guys to the ATP Cup; we'll see if the Australian Open's. I mean, he did not specify whether he's coming or not, but that he's waiting for a decision."
Top five star Stefanos Tsitsipas, who fell to Djokovic in the French Open final, defended the Serb's right to choose whether he is vaccinated.
"It's his decision. If he thinks he's not ready to play here for some reason, it's his choice. Most players respect his choice and he has the freedom to choose," said Tsitsipas. .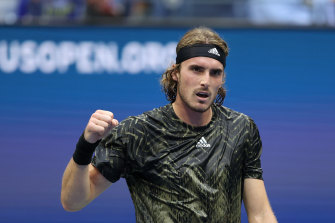 The Greek star initially expressed hesitation with the vaccine before receiving the COVID-19 jab, showing nothing but respect for the entry rules introduced by the Australian government.
"The rules are rules, and the rules are established with a specific purpose and a reason," he said.
"There are certain parameters that need to be followed to make certain things happen. If some players decide not to come, it's their choice.
"I do not want to say that there is right or wrong here. I was really looking forward to coming to Australia and following everything that was necessary for me to come.
"I just love being here, whether it's in Sydney, Brisbane or Melbourne, the overall atmosphere is great."
While Roger Federer will be absent from all of Australia this summer and there is a cloud left over Djokovic, Rafael Nadal travels to Melbourne chasing a 21st grand slam title.
The Spaniard tested positive for COVID-19 after attending an exhibition event in the UAE this month, but will complete his preparations for this year's first grand slam in Melbourne.
Nadal's presence will make life a little harder for the next harvest of stars, many of whom are chasing their first major.
Loading
"That's how it will be [without the top three]generally in a few years. And potentially maybe in two years. [We're just] to get used to the past, it's pretty much the new reality, "said Tsitsipas.
"Let's see how tennis works without the top three. I really want to see which players will win at this point."