There are 200 people in intensive care, which is an increase in one day of 10 additional patients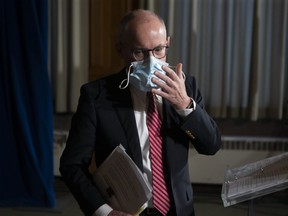 Article content
Ontario will push the return to school by Wednesday, according to a senior government source.
Article content
Teaching was to resume as early as Monday in large parts of the province, but critics called for clarity on the back-to-school plan in light of the increase in COVID-19 cases.
The source says the province will implement 3,000 more HEPA filter units for school boards in addition to the 70,000 it has already rolled out, and will also supply N95 masks to staff.
The source also says that seating in concert venues, arenas and theaters will be limited to 1,000 people or 50 percent capacity, whichever is less, starting Friday.
The changes are expected to be announced on Thursday at 15 by Ontario's Chief of Health.
The news comes as the province on Thursday set a record with 13,807 COVID-19 infections and an increase in hospitalizations.
Article content
Many regions saw rising daily case numbers, including Toronto with 3,478 confirmed new cases.
The number of COVID-19 patients in hospitals in Ontario rose to 965, an increase of 239 patients from the day before.
There are 200 people on intensive care, which is an increase in one day of 10 additional patients.
Eight more deaths were blamed on COVID-19 for a pandemic totaling 10,179.
In long-term care homes (LTC), where the government will enforce strict new visiting policies with effect from Thursday, there were 186 active cases and one death among residents and 307 active staff cases.
Public health data indicate that more than 40% of Thursday's confirmed new cases were in people aged 20 to 39, and more than 25% were in people aged 40 to 49.
However, there is a widespread suspicion that COVID-19 cases are underreported due to the transferable nature of the Omicron variant and test lag.
Chief Medical Officer of Health Dr. Kieran Moore is scheduled to update the province's COVID-19 situation at 6 p.m. 15 Thursday, and is expected to provide an indication of whether schools will return to class teaching next week.
aartuso@postmedia.com