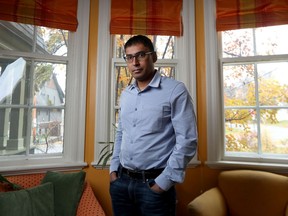 Article content
Dr. Kumanan Wilson intended to use this pandemic away from the media spotlight.
Advertising
This ad has not been loaded yet, but your article continues below.
Article content
H1N1 had been exhausting and the 52-year-old had plenty on his plate that did not involve public comment. He had actually thought of a slow slide into retirement.
Wilson is not only a general internal medicine specialist at Ottawa Hospital, innovation consultant at Bruyère, uOttawa professor of medicine and CEO of the immunization software company CANImmunize. He is also a researcher – and a father, avid reader and vinyl record nerd – who has spent the last two decades focusing on pandemics, immunization and public health policy.
In the overwhelming early days after COVID-19 changed lives, as everyone knew it, CBC Sports lured Wilson out into the public eye with a request for an interview. Asked about the road back to sporting events, Wilson made a prediction that summed up with eerie accuracy the vaccine pass system that exists today.
Advertising
This ad has not been loaded yet, but your article continues below.
Article content
"It would effectively be barcode enabled. Just like when you go to a sporting event (and) they scan your ticket, so they scan your barcode for proof of immunity," Wilson told CBC.
The proposal was followed by vitriol, fierce denial of such a possibility and backlash even from some bioethicists, Wilson said, as well as some satisfaction on his part that he had ultimately been proven correct.
It's just an insight into the high nature of public pandemic comments. Self and professional reputation are revealed, words are preserved in the ever-growing digital archive of Canada's COVID-19 experience, and people – critical decision makers and everyday citizens – watch and read and sometimes act on what the experts say.
Advertising
This ad has not been loaded yet, but your article continues below.
Article content
There is a group of such experts in Ottawa, among them Wilson, seen often enough in the media over the last two years that they have become well-known names. These scientists and doctors have helped translate medical or scientific jargon into lay terms, offered perspective on difficult choices such as reopening sectors of the economy or sending one's child back to school, and helped draw a picture of what the future may bring, and what impact individual actions could have, in times that for many people were deeply disorienting.
The opportunity to exercise this influence can be rewarding, but it is also marked terrain, personally and professionally.
There are no easy decisions to make, Wilson said when it comes to talking publicly about anything. And unlike previous outbursts he has commented on – SARS, H1N1, Listeria – he has a company to think about now.
Advertising
This ad has not been loaded yet, but your article continues below.
Article content
"I can not go out there and condemn people for their policies. They could be my future customers. So I'm just trying to be much more measured."
He has also been trying to figure out his niche. Vaccine damage compensation, for example, is something he has been working on for 20 years and that not many people were aware of. He felt it needed a master, and focused his advocacy business accordingly.
And just because you're an expert does not mean you're an expert. Vaccines are more his specialty, as opposed to e.g. to try to characterize the pandemic.
"In the beginning, I'm glad I did not say anything because I would have been wrong," Wilson said. He offered a consideration to other younger academics.
"If you are not … the expert, even though there is the opportunity to speak in public, there is a temptation to speak in public, you may not want to because it is busy and it is permanent and it is there forever And it can be used against you. If you came out and said, 'Don't worry, it's all over.' As if it's there forever for you. "
Advertising
This ad has not been loaded yet, but your article continues below.
Article content
It did not take long for Raywat Deonandan to realize what his pandemic role could be. There were plenty of experts deep in the weeds who did the important work of talking to decision makers. Then there were the government experts, whose positions to some extent limit what they can say in public.
As a full-time professor, Deonandan had freedom. He did not do primary COVID-19 research, but had a set of skills that were hugely appetizing: talking about technical issues with non-technical people.
"And my ethical perspective is that the taxpayers have paid my salary to do certain jobs, to educate their students, to do research and so on. And part of the implicit social contract between taxpayers and a professor at a university is in times of crisis, your expertise must be brought to the benefit of the public good. And I take the social contract very seriously, "said Deonandan, an epidemiologist and associate professor at the University of Utah's Faculty of Health Sciences.
Advertising
This ad has not been loaded yet, but your article continues below.
Article content
"So it was my ethical responsibility to do what I could … And I decided that my role is a public educator. What I had not anticipated was the setback."
In addition to personal growth and rewarding professional opportunities, hatred, threats and racist remarks have followed Deonanda's prolific pandemic commentary. He knows he is not alone in this, and says it is particularly bad for women and people of color.
Through trial and error, he has learned what does not work for him and his family: get into online quarrels with antagonists, respond to hate mail with compassion (he just deletes it now) and reveal his home address or information about his son, now a little child.
Deonandan said he has spoken to graduate students who used to be excited about the idea of ​​taking a public role in health communications, but are now afraid of it, after seeing the hatred and division out there.
Advertising
This ad has not been loaded yet, but your article continues below.
Article content
Deonandan said he has leaned towards the philosophy of stoicism and now believes that teaching students the skills to protect themselves before teaching them how to engage the public is where he would start training the next generation of pandemic communicators.
"Many of the haters say you know, 'You just want to keep prolonging the pandemic because you love the limelight.' No, we hate the spotlight, "Deonandan said with a laugh." Because the spotlight comes with all this negative attention. "
For CHEOs Dr. Nisha Thampi, a pediatric infectious disease doctor, has public comments during the pandemic been an extension of the work doctors do at the bedside.
"So it's not like we're getting off our lane," she said. "We're just formulating what we've seen in bed and what we see in our communities to try to get a more comprehensive and appropriate response to curb infection, to get children to safely do what they have to do. during this period in order to provide children with timely and quality care when they need it, and to support families through a very difficult time. "
Advertising
This ad has not been loaded yet, but your article continues below.
Article content
Thampi is also the medical director of CHEO's infection prevention and control program, and said one motivator for sharing her expertise in the media is that she does not want to see children unable to access care or go to school, just because there is a COVID risk when strategies are available to manage that risk.
She also believes that when asking people to take extraordinary measures, it is so important "to help them understand why and to be transparent about our understanding of risks and the importance of mitigation measures and to be able to talk about trades- get rid of acting in this way versus not acting in this way… so that's where I have tried to contribute to the conversations. "
Thampi is aware that not everyone is able to say no or feel safe doing so, for personal or systemic reasons or both. She stressed the value of the people that the public has not seen in the media, who have done critical work and advocacy for their patients and communities away from the spotlight.
"I'm very aware," Thampi said, "that all the interviews I've done have brought knowledge and experience from others who have been quieter."