Patients with COVID-19 in Queensland have criticized the lack of communication and information from state health authorities since they tested positive.
Key points:
Individuals who have received COVID at the same time have received various instructions from the authorities
Others have not received further information after being told they were positive
Queensland Health has released a five-step plan for those receiving COVID-19
Many say they stay in the dark about their isolation period and receive conflicting information about what is required of them while recovering from coronavirus.
Friends Dan Wilson, Anna McGahan and Chris Banham believe they became infected when they had dinner together before Christmas.
They have isolated themselves together since receiving positive PCR test results on or around Christmas Day.
All three have received different information from authorities.
Sir. Wilson was the first in the group to receive a positive test result and was contacted by Queensland Health to check the severity of these symptoms.
"But other than that, I have not received any other communication from the Queensland government about testing positive on a PCR or how I should behave or act, or what I should do within my social responsibility to stop the spread," he said. .
Ms McGahan was already self-isolating when she received her positive test result on Christmas Day.
"We did not know if it was 10 days or 14 days we were isolated in, we were not sure if we have the same rules as NSW or Victoria."
Sir. Banham has had no contact with Queensland Health since receiving a text message informing him that he had COVID-19.
He is from New South Wales where he has friends in a similar situation.
"Their isolation periods are shorter than Queensland's, and so they've got clarity on when to travel, and most of them travel after 10 days," Mr Banham said.
Ms McGahan said there had also been no information to help her recover from COVID-19.
"It is clear that nothing will cure it [COVID-19] but just in terms of symptom management of a disease that we all seem to be working really hard to fight, "she said.
"Once you have it, you're just a little left in the puddle."
'It has been very vague'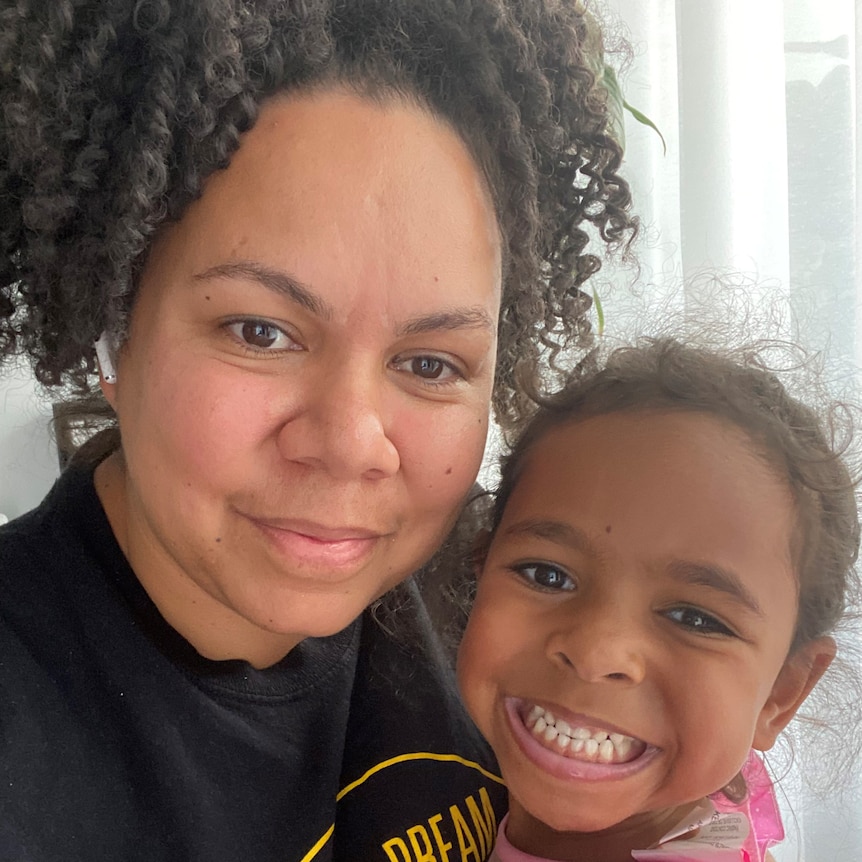 Neta-Marie Mabo has been isolating herself at home with her five-year-old daughter and the girl's father since Christmas Day.
"I suppose for the New Year we will be in isolation together," she said.
This is the second time she has received COVID-19.
"The first time I had COVID for the first time, I was not with my daughter and it was really hard," Ms Mabo added.
She also said her symptoms were less severe now that she is fully vaccinated.
"This time it has been very vague.
"It was unclear how long I was going to isolate … I still haven't received a call from anyone yet, I guess there are a lot of people testing positive so they have plenty of work ahead of them."
Couples received different instructions after testing positive
Twenty-five-year-old Nick from Brisbane and his partner returned from a wedding in Sydney and were tested at intervals of several days, both of which had a positive result.
Since they are fully vaccinated, both of their symptoms have been minor.
"It started with a slight sore throat, slightly mild runny nose, perhaps mild loss of taste… less than a cold," he said.
The couple has also been frustrated by the conflicting information they received from Queensland Health.
"Not much contact, a text message or two here and there, and of course it took some time to test to get the results back," he said.
"She [Nick's girlfriend] got her results back maybe 12 hours before me … she was told as a positive [to isolate] 10 days from the swab date, whereas I got my message 12 hours later and it was 10 days from the positive notification date.
"With these test delays, it's a three-to-four-day extra isolation, and of course we're both stuck here until the last person comes out.
"It would be nice if there were consistent messages, a consistent definition of all situations, because no one can tell us how long isolation is and when it officially starts."
Queensland Health offers a five-point plan for those who test positive
When asked about the mixed messages and confusion, Queensland Health referred to Chief Health Officer John Gerrard's message at Thursday's press conference.
Dr. Gerrard said most people would be healthy enough to take care of themselves at home.
He published a list of five things people should do if they test positive for COVID-19, starting by going into isolation, telling those they live with, being quarantined and being tested, as well as answering Queensland Health calls and text messages and inform those they have had close contact with.
The five steps are:
1.

Isolate and ask your household to be tested

2.

Help Queensland Health assess your situation

3.

Tell the people you have been in contact with

4.

Get the things you need

5.

Take care of yourself
The nation's leaders yesterday signed a new, nationally consistent definition of a COVID-19 close contact that will take effect in Queensland at midnight.
Under the new definition, a close contact is a person who had spent four hours or more with a confirmed case in a household or household-like setting, such as a nursing home.
Under the new rules, COVID cases and close contacts must return a negative RAT result before ending their seven-day isolation period.
If they return a positive RAT result on day six, they should take a PCR test. Symptomatically close contacts are also advised to have a PCR test.
Loading form …
.