NSW and Victoria are expected to abandon mandatory PCR testing for vaccinated international travelers arriving in Australia in favor of rapid antigen testing as part of a significant shift from state-administered testing.
The plans were discussed by heads of state and territory and the prime minister in the national cabinet on Thursday, and two sources with knowledge of the agenda indicated that the measure was adopted early in the meeting.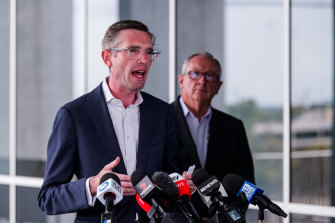 NSW Premier Dominic Perrottet pushed for the reform as part of a broader move away from PCR tests against the self-administered RATs and intended to announce the move on Friday.
At present, vaccinated international passengers must get a PCR test within 24 hours of their arrival and isolate themselves until they get a negative result. A second PCR is required after six days and a third PCR is recommended after 12 days.
The shift in requirements comes after long queues at test centers made some people wait up to eight hours for a PCR test during the Christmas period. The large number of positive cases has also put massive pressure on the test system, with people usually waiting four or more days for their results.
NSW recorded 12,226 new cases on Thursday and one death, an unvaccinated woman in her 70s, with the number of current ICU admissions fairly stable at 63.
Sir. The Perrett's office was contacted for comment Thursday morning on the proposal to end PCR testing for vaccinated international arrivals.
NSW Health Minister Brad Hazzard previously told News Corp that it was a matter for the national cabinet, but if the other parties did not agree, "I will put it [up] for discussion with the NSW Health team and Victorian health teams ".