The Ministry of Education says the current plan is for the resumption of personal learning in the new year with improved security measures.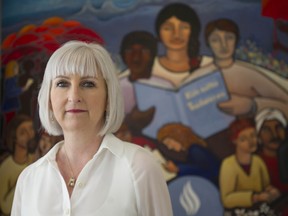 Article content
The BC Teachers' Federation is calling for a delay in the planned return to public schools next week as the COVID-19 Omicron variant spreads wildly across the province.
Article content
On Tuesday, BCTF President Teri Mooring said the union had never before advocated for online learning instead of personal classes.
"We have advocated for schools to remain open with all security measures, but we see this as a very different scenario right now," Mooring said. "Even though teachers may not get really sick or need to be hospitalized, they will still not be able to get to work if they have symptoms, and that is the concern."
Mooring said that with too many sick teachers and training assistants, schools would be forced to close due to staff shortages. There were 1,785 cases of COVID-19 reported in BC during the last 24 hours.
"The counts we see are the tip of the iceberg. We know the test sites are overwhelmed, and we know Dr. (Bonnie) Henry says this is another pandemic now, and the schools are a reflection of the community they are in. At this point, we hear that even though they have been really careful, and even though they are double-vaccinated, our members are getting infected. "
Article content
Mooring said the union had expressed its position to the BC Ministry of Education and called for a delay of a few weeks. She said some teachers could stay in class to support vulnerable and diverse students, as was done in March 2020, when the ministry delayed the resumption of classroom teaching in schools after the spring break.
The union also calls for free N95 masks for all staff and students and for the implementation of a rapid test regime in schools.
In a prepared statement, the Ministry of Education said the current plan was a resumption of personal learning in the new year with improved security measures.
"Personal learning is essential to students' social and emotional well-being," the statement read.
The provincial K-12 steering committee, which includes the BCTF, is meeting on Wednesday "with a goal of completing improved school safety measures."
dcarrigg@postmedia.com