The Cabinet has accepted a new definition of a COVID-19-close contact, meaning a person who has been with a confirmed case for more than four hours in a household.
Prime Minister Scott Morrison announced that the change of definition would take place from midnight tonight in NSW, Victoria, ACT, South Australia and Queensland and in Tasmania from midnight on 1 January.
The country's leaders have broadly agreed on changes to isolation requirements and testing following a national cabinet meeting at the last minute as Omicron sweeps the country.
Australia's top doctors met on Wednesday night to discuss the proposed pandemic "gear shift", which includes reducing isolation for close contacts to seven days and replacing "gold standard" PCR testing with rapid antigen testing in most scenarios.
So far, 21,304 cases have been confirmed across the country, the highest daily number so far. Case numbers are thought to be much higher due to tests and performance delays that have left many relying on rapid antigen tests for confirmation.
Earlier Thursday, Health Minister Greg Hunt said that while the number of cases grew, there was strong evidence from Australia, South Africa and the UK that the Omicron variant was less severe than the Delta strain of coronavirus.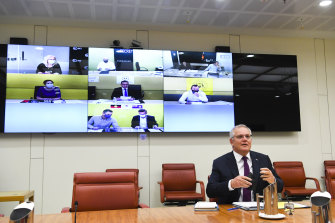 Hospitalization rates remained low, he said, so the biggest challenge now was the number of people in isolation as close contacts.
"So today the national cabinet is focusing on the dismissal and the contact definitions and the way we are able to test people to make sure we prioritize these PCRs for people who are clearly symptomatic and very vulnerable," he said. . Thursday morning.