"I saw a small fire, I guess it looks like a ceremony or something, so in the end it kind of went up in flames, the whole front door," he said.
"There was a lot of arguing, shouting. I do not remember if the police came before the fire or after, but I think they came to move them on, they [police] was forced back into the building, and not long after, the fire broke out. "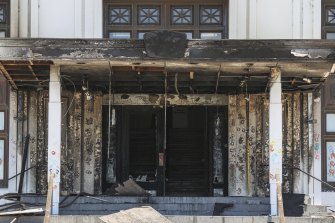 The main doors of the building appear to be damaged and there is extensive damage to the portico and the front entrance.
There were five fire trucks and about 40 police officers on the scene.
Last week, the Old Parliament House was forced to close when members of the Aboriginal tent embassy held a sit-in at the building's entrance.
McCormack said the protest was "shameful".
"A monstrous attack on our democracy, our history, our sovereignty. This modern penchant for tearing down our past serves no purpose," he said on Twitter.
Resource Secretary Keith Pitt said he hoped everyone who had been inside the building was safe.
"Whatever your case, it's not the answer to set the old Parliament on fire and endanger all of them. Expect [the] full force of the law to be applied, "he said.
The Morning Edition newsletter is our guide to today's most important and interesting stories, analyzes and insights. sign up here.