Classic Vietnamese bánh mì is made with meat, such as pork or ham, and with mayonnaise – which is not traditionally vegan. Fortunately, with modern culinary advances, there are several places that offer vegan versions of the spicy sando! Here's where you can find vegan bánh mì sandwiches in Los Angeles.
Havelund
Thiên Đăng Vegetarian is your ultimate stop for overwhelming vegan Vietnamese food! Their bánh mì selection is one of the best in LA. From plant-based tuna, teriyaki chicken and beef to fermented pork, meatballs and meatballs, there is an option for every taste and texture preference. Our suggestion? Order some vegan Thai tea to wash it all down!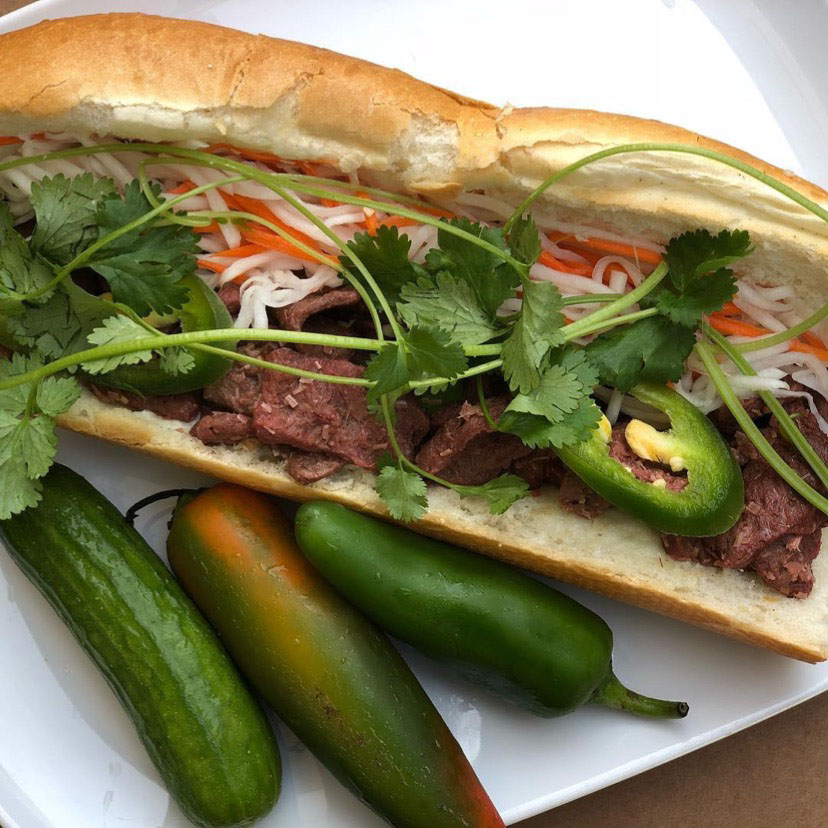 Cerritos & Reseda
This popular Southeast Asian vegan restaurant offers a wealth of sub-sandwiches in the style of bánh mì. Vinh Loi Tofu's vegan chicken, curry chicken meatballs, ham, BBQ duck, spicy spam, lemongrass steak and lemongrass sandwich all come with the classic bánh mì tops – cucumber, pickled carrots, pickled radish, cilantro and jalapeno chili. Be sure to order some dumplings or spring rolls as an appetizer!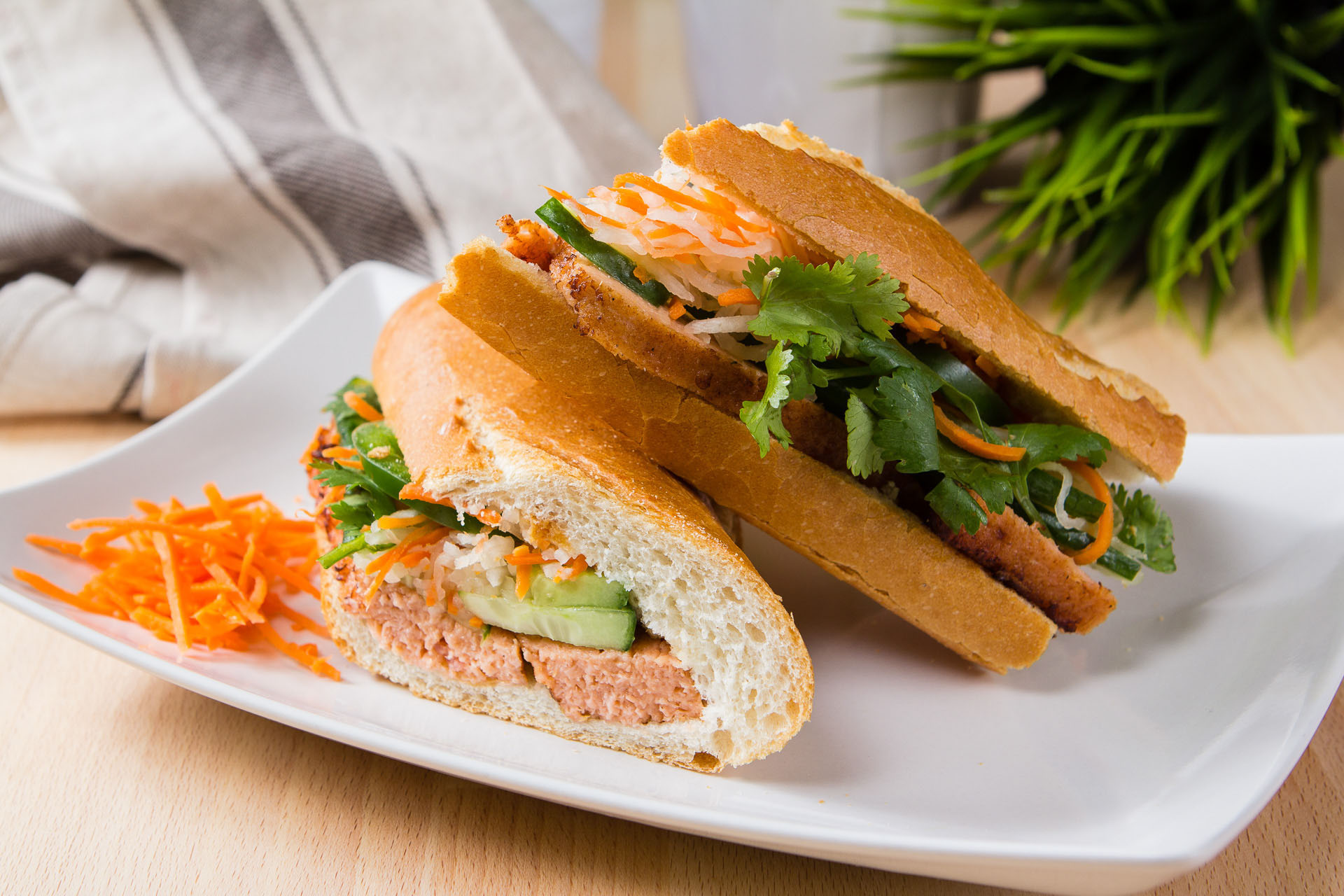 Pop up
If you can not already see its name, there is no shortage of vegan bánh mì in this pop-up. Their classic Vietnamese sando comes with Vegenaise, walnut pâté, cucumber, jalapeno, cilantro, pickled carrots, daikon and soy sauce with your choice of jackfruit chicken, BBQ mushrooms, pork-free ham or a cannellini bean-based protein. Other dishes to try from Vegan Bánh Mì Thảo include bánh cuốn, vermicelli and egg rolls.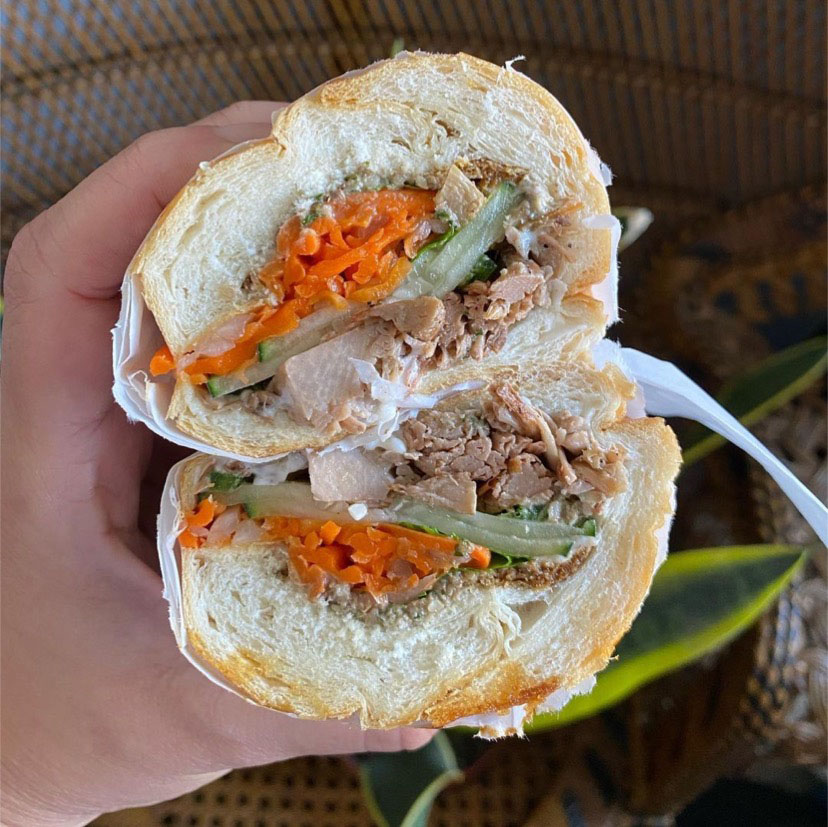 Long beach
Soozee Nguyen, owner of The Wild Chive, draws menu inspiration from his mother's traditional Vietnamese cooking. Since vegan breakfast sandwiches are top notch these days, Nguyen decided to create an innovative morning rendering of a classic bánh mì. The vegan breakfast bánh mì at The Wild Chive features a fluffy tofu scramble, crispy bacon, grilled ham, cucumber, Sriracha, pickled vegetables, Fresno chile, fried shallots and sour chive aioli and cilantro in a French roll.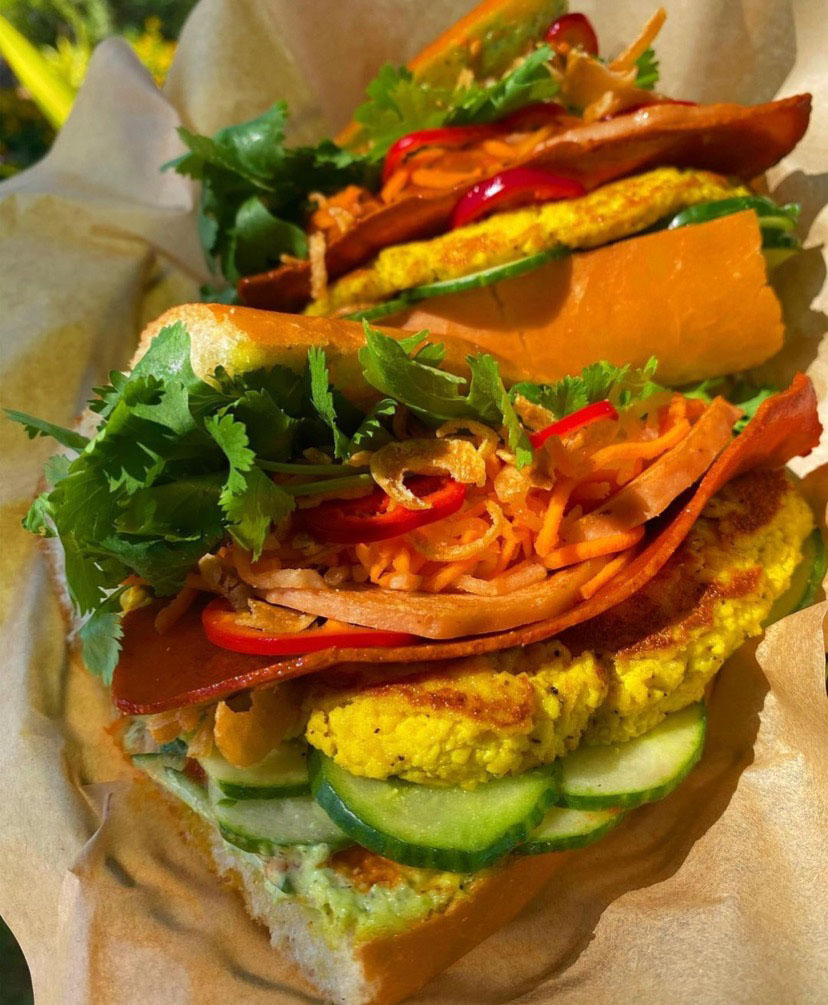 Havelund
For a unique spin on a classic bánh mì, try Saigon Vegan! Their vegan ham and cheese bánh mì offers vegan ham, grilled onions, melted vegan cheddar and parmesan cheese on ciabatta bread. The Philly version is a hybrid between a vegan Philly cheesesteak and bánh mì. It comes with Impossible beef, grilled onions and melted vegan provolone and mozzarella cheese on ciabatta bread. Be sure to scan the menu for other salivary vegan Vietnamese bites to try.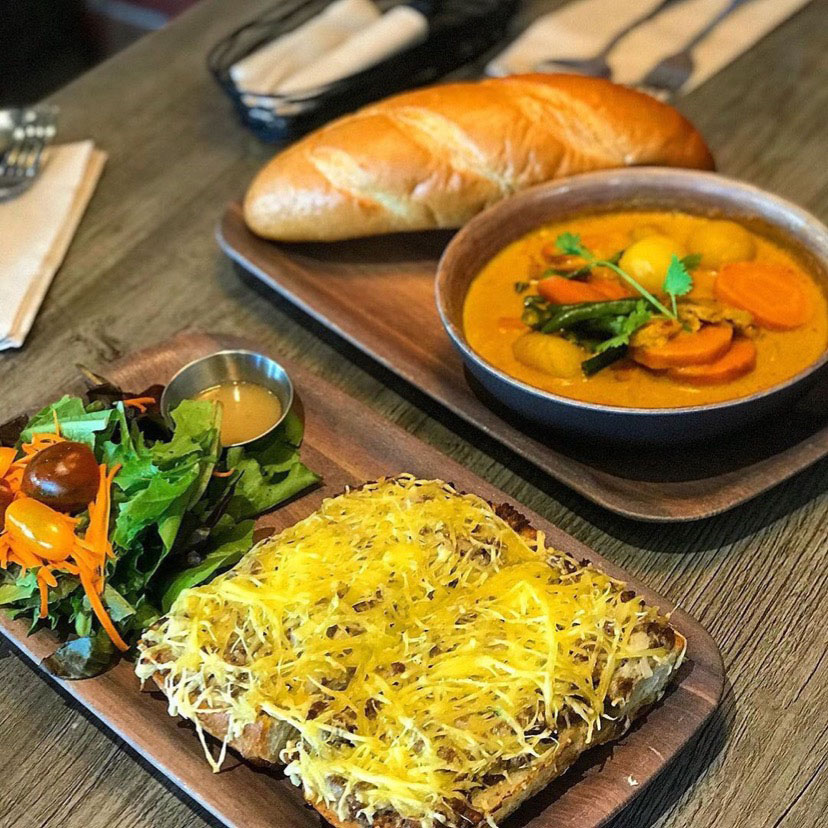 Photo credit: @ foodies4lyfff on Instagram
Santa Monica
From pasta and pizza to burgers, tacos and bánh mì sandwiches, this upscale vegan eatery has a wide variety of dishes to choose from. The vegan bánh mì at Margo's is composed of soy-glazed jackfruit, mushroom pâté, pickled carrots and peppers, coriander and cucumber on a toasted baguette. It is one of our favorite items to order here!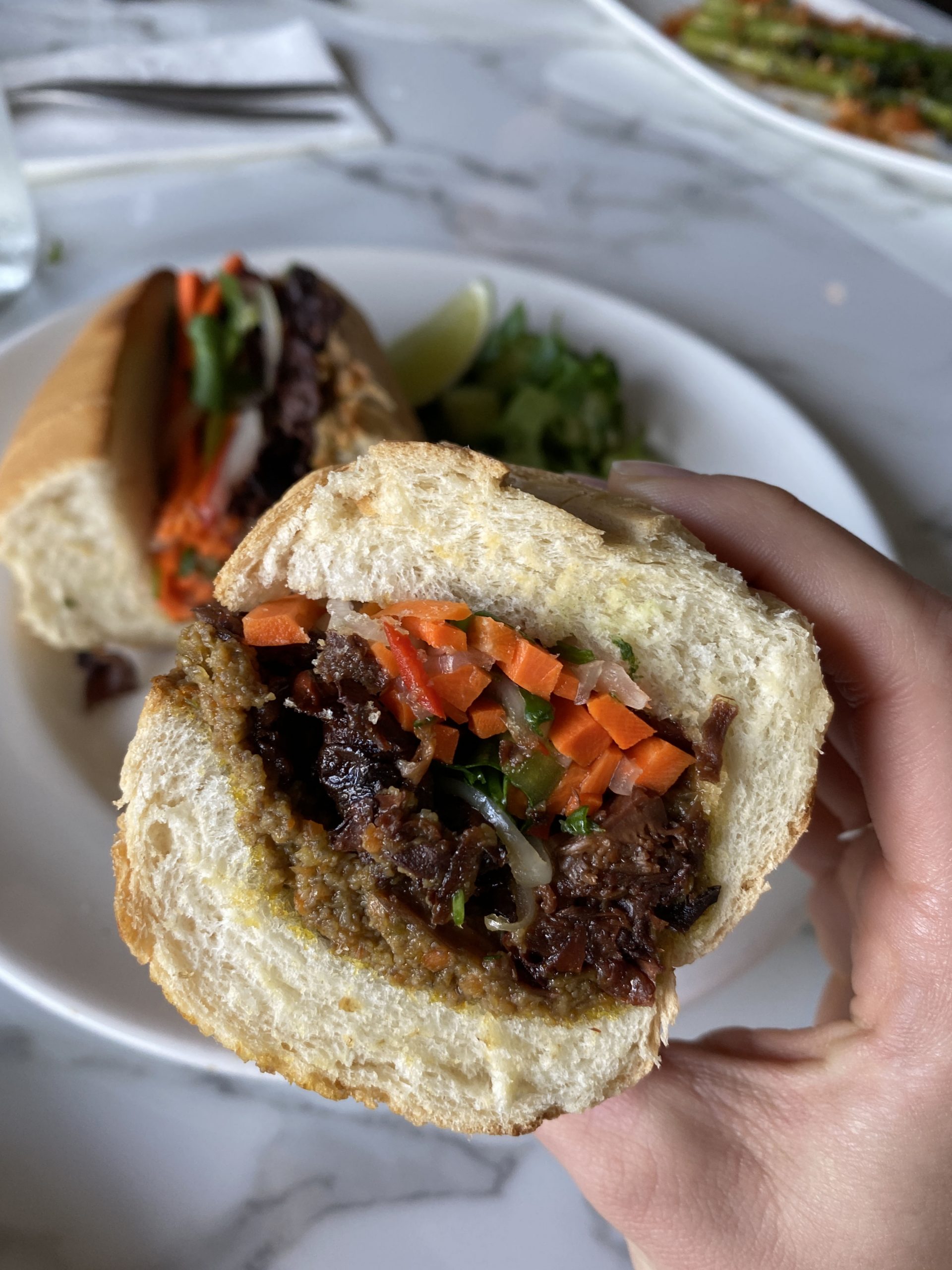 Sea view
Vegan friendly
This modern Vietnamese restaurant takes the term "vegan-friendly" to the next level! Their bánh mì can be made vegan when ordered with crispy tofu or Impossible meat. Other good vegan dishes to try include the impossible "egg" rolls with vegan fish sauce, spring rolls, tofu bites and vermicelli noodles.
Bread and tea Cali
Alhambra and Westminster
Vegan friendly
For an affordable and authentic bánh mì experience, visit Bánh Mì Chè Cali! Their veggie ham bánh mì has a 100% vegan ham alternative and all the classic toppings. It should not come with any mayo, but clarify when you order that you are vegan and would like to avoid mayo on your sandwich. Whether you prefer a French roll or baguette, each giant sandwich costs just $ 4.75 per serving. If you buy in multiple, Bánh Mì Chè Cali offers a buy two get a free deal.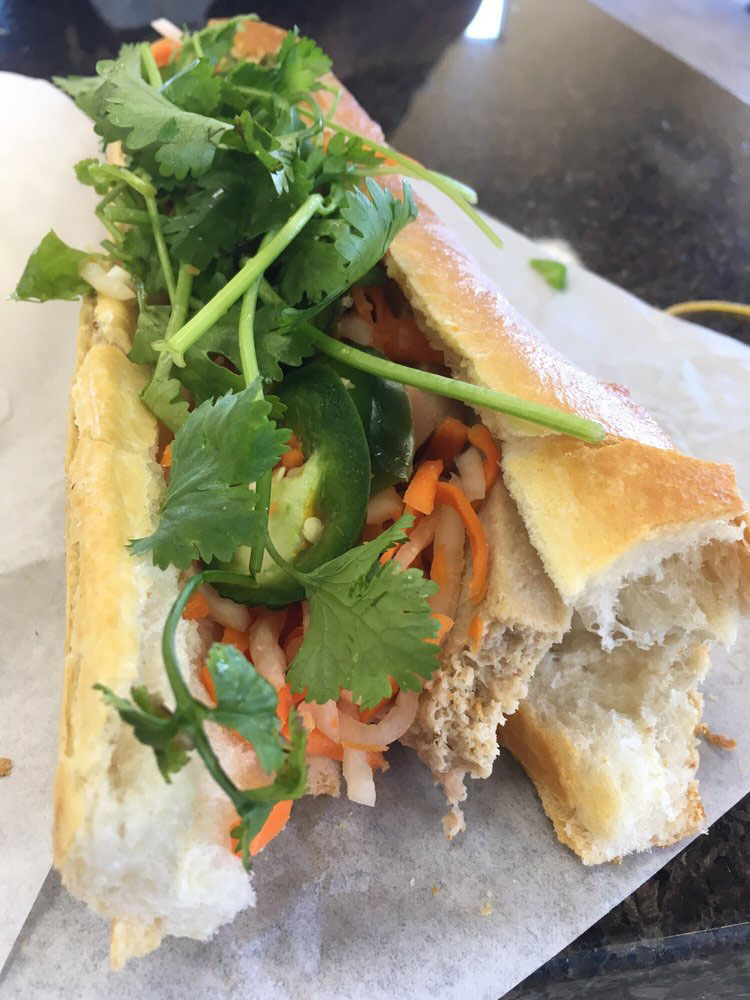 Photo credit: Alyssa F. on Yelp
Saigons bakery and sandwiches
San Gabriel
Vegan friendly
Calling all bread connoisseurs! Come by Saigon's Bakery & Sandwiches for their veggie bánh mì at one of the best baguettes in Los Angeles. The vegan sandwich offers glass noodles, tofu and vegetables. It may not come with mayo, but we always suggest double checking with an employee when ordering.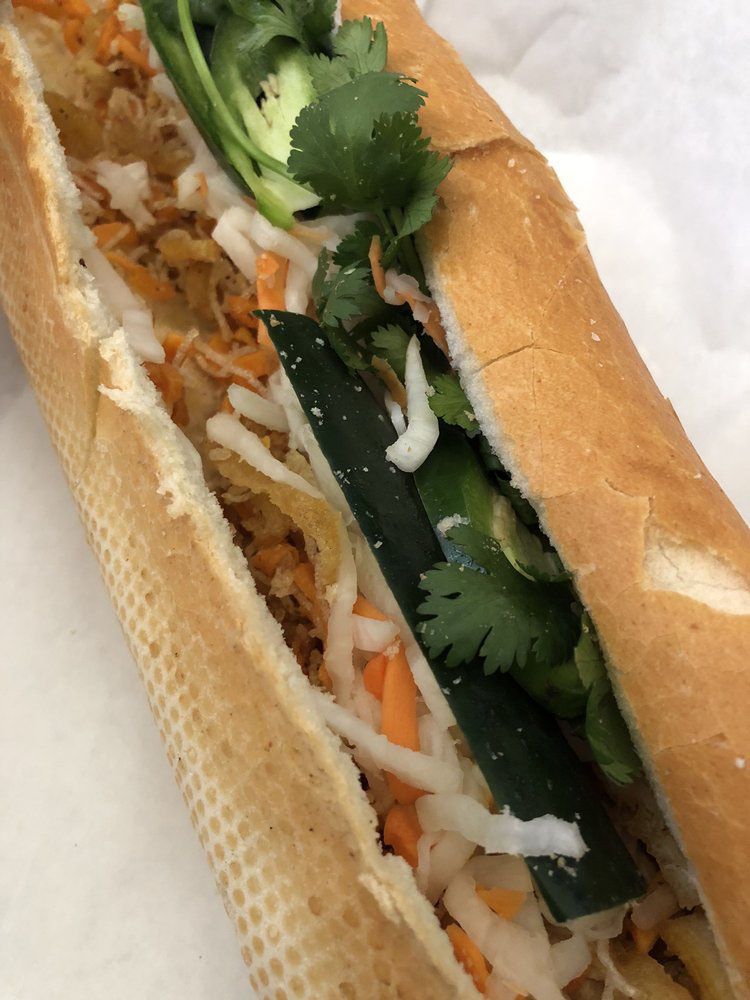 Photo credit: Theo on Yelp
More locations
Vegan friendly
This popular lunch destination in LA makes a bánh mì that is hearty, spicy and delicious! Garnished with organic marinated, baked tofu with vegan aioli, sweet chili sauce, homemade pickled daikon and carrots, cucumbers, jalapenos and cilantro on panini-pressed ciabatta bread, it's no surprise that this sando is one of the most popular menu items at Mendocino Farms.
Photo credit: @buildcult on Instagram