An infectious disease expert says the Northern Territory only needs to have a super-spreader event for the Omicron variant to start spreading, as it has done in Australia's eastern states.
Key points:
A leading epidemiologist says NT could have an Omicron super-spreader event like the ones seen in NSW if COVID-19 restrictions are not in place
NT Health Minister Natasha Fyles says Doherty Institute's modeling of coronavirus hospital does not take into account the Omicron variant
Low-vaccinated indigenous communities remain NT's biggest health risk
His warning came after the NT on Thursday counted a record 37 new coronavirus cases.
Of these cases, one was a nurse at the Royal Darwin Hospital, and two were persons who attended the same birthday party in Darwin as a nine-year-old girl who was recently identified as a case of infection in the community.
No new cases of transfer of the community were confirmed yesterday.
NT Prime Minister Michael Gunner said authorities would change local public health settings if the number of cases increased rapidly.
"At this point, our measures are working," he said.
"We have a low risk of intrusion and we are able to stay on top of it [and] our social transfer rate is on the floor. "
Professor Mike Toole, an honorary Burnet Institute epidemiologist, said now that Omicron was in the community that territories should look to other states and territories to get an indication of what lies ahead.
"And we've never had a variant as contagious as Omicron."
So far, the NT government has opposed the reintroduction of measures such as mask mandates despite growing calls from Aboriginal health groups and infectious disease experts for stronger health measures.
No clear hospitalization modeling
In New South Wales, where Omicron cases have exploded in recent weeks, more than 745 COVID-19 patients are receiving treatment at the hospital, of which at least 60 are in the intensive care unit.
On Thursday, NT Health Minister Natasha Fyles admitted that the highly contagious variant was a "game changer" that could affect the Doherty Institute's latest modeling of hospital admissions to the NT.
The institute's modeling, released in November, showed that with 80 percent of people aged 16 and older fully vaccinated, NT's health system would be able to handle 30 to 100 COVID-19 cases a day.
Although Omicron appeared to result in fewer hospital admissions than Delta, Ms. Fyles said more COVID patients in the NT had required hospital treatment for diseases other than the virus, which "were not necessarily taken into account" with the initial modeling.
On Thursday afternoon, there were 21 coronavirus patients in NT hospitals, but none in intensive care.
Professor Toole said that if hospitals continued to fill up with COVID patients who were not sick enough to be in the intensive care unit but still required hospital beds, the health care system could tighten.
"This is the season where there is the most trauma on the road, the most domestic violence, the most suicide attempts and drug overdoses," he said.
"We can not afford to push the health care system further."
Concerns about remote communities
Sheralee Taylor, acting chief executive of the Central Australian Aboriginal Congress, said she was "very concerned" about the prospect of an Omicron outbreak as many hospitals were already facing widespread staff shortages.
"I would hate to be in a situation like NSW, which is out of control," she said.
"It would be devastating if Omicron reached our remote communities, especially with low growth rates."
Professor Toole said for this reason that the NT should be the "most risky jurisdiction" in Australia.
"We can not afford to allow this virus to spread in societies where there is a high incidence of obesity, diabetes and other underlying risk factors," he said.
Dr. Robert Parker, president of the NT branch of the Australian Medical Association, agreed that low vaccination rates in some indigenous communities were "the most important risk factor in the territory".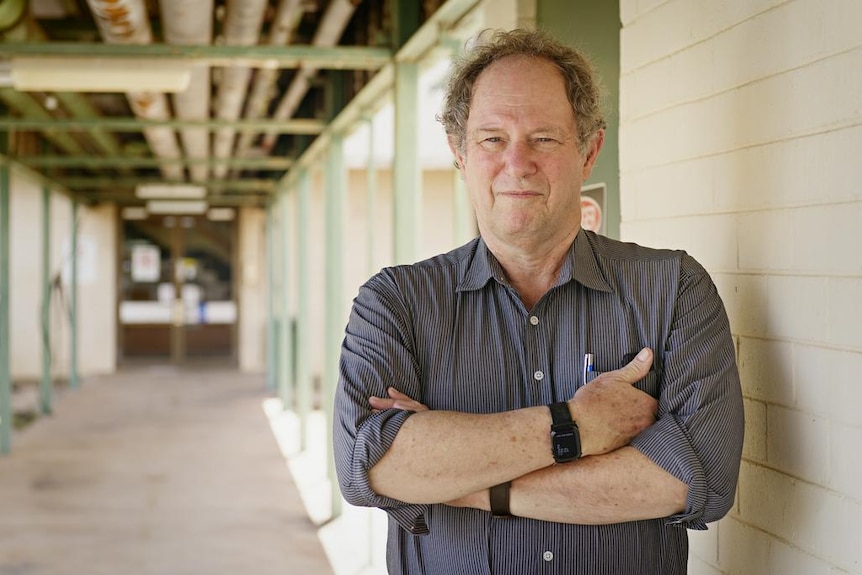 "Clearly, people in these communities are at risk of having serious health problems – potentially even fatal problems – which therefore increases the pressure on hospital beds," he said.
Dr. Parker said territories now faced the real risk of getting COVID-19 when they socialized, urging them to get vaccinated and wear face masks when social distancing was not possible.
"Vaccination will protect the health care system," he said.
"Terrible disease that wiped out entire families is now gone because of vaccines."
Loading form …
.