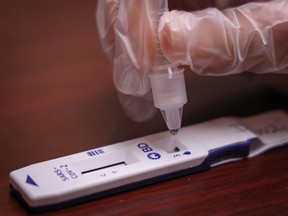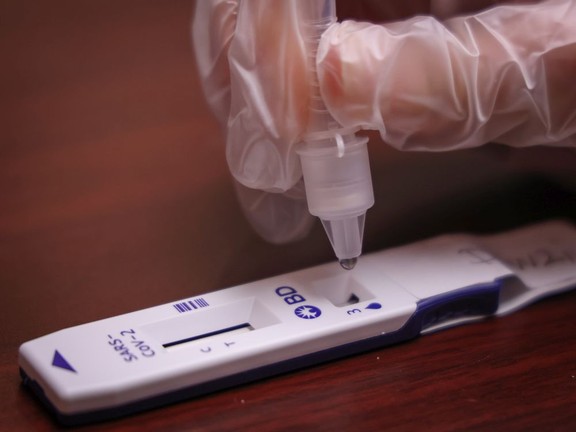 Article content
Alberta is extending the winter break for kindergarten students to 12th grade until Jan. 10, when the province on Thursday reported an estimated record-breaking 4,000 new cases of COVID-19.
Advertising
This ad has not been loaded yet, but your article continues below.
Article content
The students originally planned to return to school next Tuesday. Education Minister Adriana LaGrange said in an update Thursday night that the decision to postpone returning to school was made after a cabinet committee meeting earlier in the day.
She said during the winter break she heard concerns about the growing incidence of the Omicron variant and how it would affect schools, including staffing challenges for teachers, bus drivers, parental authorities, educational assistants, administrators and maintenance workers.
"Schools expect a high number of student absences, making it harder for teachers to administer personal and homeschooling at the same time," she said.
"School authorities will use this week to gather more information and prepare students' instructions from January 10," she said.
Advertising
This ad has not been loaded yet, but your article continues below.
Article content
"I am convinced that this extra time will position the school authorities for a successful start-up."
LaGrange said the province recognizes that the delay will cause learning disabilities and therefore diploma exams scheduled to begin on January 11 will also be canceled.
In addition to the delay, LaGrange said 8.6 million rapid home tests will be distributed to schools across Alberta on Jan. 10, and 16.5 million medical-grade masks will be delivered to staff and students.
"This will bring convenience and is an additional measure to reduce the risk of infection in school," she said.
Alberta is following other provinces that announced delays in personal schooling, including British Columbia, Quebec, Manitoba and Nova Scotia, which pushed back to school until Jan. 10, while teaching in New Brunswick is due to return Jan. 18 and Newfoundland. and Labrador have gone online indefinitely.
Advertising
This ad has not been loaded yet, but your article continues below.
Article content
The province, meanwhile, released estimated COVID-19 figures on Thursday.
About 4,000 new cases were reported, breaking Wednesday's record of 2,775. There is an estimated positivity of 30 per cent.
There are 371 Albertans in the hospital with COVID-19, an increase of 22 from Wednesday. Of those, 48 are in intensive care units, a decrease of nine.
As cases of COVID-19 continue to rise across Canada, a new study from Ontario shows that despite reduced severity of Omicron, resulting in hospitalization or death, the impact on the health care system is likely to be significant.
Alberta Health Services is monitoring the situation in the province and preparing for potential consequences for staff and patient care.
Advertising
This ad has not been loaded yet, but your article continues below.
Article content
"Other jurisdictions have seen an increase in the number of healthcare professionals on sick days as a result of Omicron. We are also beginning to see early potential signs of this, spokesman James Wood said in a statement.
"So far, the health service has not been affected, but we have planned for increased staffing. The plans include relocating staff members to areas with the highest priority, using alternative care models and prioritizing (health staff) for testing to maximize available workforce."
He said a reduction in services and operations could also be considered to relocate staff in the greatest need.
Woods added that the number of COVID-19 positive health workers so far in December is in line with recent months, according to preliminary data.
The sickness rate in December 2019 was 5.3 percent, while the sickness rate for December 2020 was 5.6 percent. The sickness rate for November 2021 was 5.4%.
"We expect to see increased sickness rates in the coming days as the Omicron spread continues," Woods said.
More on the way.
– With files from Lisa Johnson and The Canadian Press
ajunker@postmedia.com