A tropical cyclone that formed off the central Queensland coast last Friday has been upgraded to a Category 2 as it tracks south.
The tropical cyclone Seth formed around noon.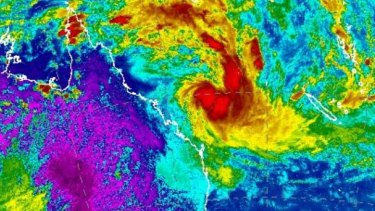 "It's moving off the coast to the southeast, but may turn on a more southerly track over the weekend, which is a concern for the southern parts of Queensland," said senior meteorologist Steve Hadley.
"These eastern swells will travel towards the southern coast over the weekend and we are likely to see precipitation and large swells on the coast, especially from Fraser Island to the south, to the Gold Coast and even into northern New South Wales."
He said it was difficult to predict where the cyclone was heading, but there were signs it could get closer to the southeast coast on Sunday and Monday.
"There is more risk of gale force winds in coastal waters through Sunday and Monday," he said.
"We just have to keep it under review … but we're sure it's going south in the next 24 to 72 hours."
Sir. Hadley said most of the effects in terms of strong winds and rainfall would be offshore.