Thursday, December 30, 2021, at 12:00 – The bitter cold is finally set to recede, with an unresolved start to the new year waving on.
The last days of 2021 have offered temperatures well below seasonal temperatures and even some significant snow for Vancouver and Victoria. However, Arctic air is finally set to retreat from the province so that a system approaching Saturday will ring into the new year with heavy rain at the coasts and lower altitudes until Sunday, albeit with very heavy snow in the mountains. What to expect, below.
WEEKEND: UNREST, BUT MILDER, WEATHER BACK
A handful of Arctic outflows and extreme cold warnings remained in BC. Thursday night, a significant drop from the extreme cold temperatures in the early week. They probably won't last much longer as milder Pacific air begins to take hold as we head into the weekend.
This means that the coming turbulent weather will be something that people in the region are much more accustomed to at this time of year: Rain, sometimes heavy, for the coasts, with significant snow at higher altitudes.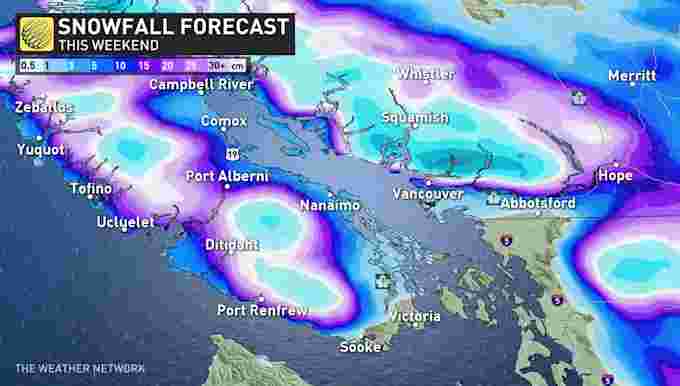 The system slides down the coasts Saturday afternoon and reaches the lower mainland and southern Vancouver Island through the afternoon, beginning largely as snow, even for the south coast.
The snow continues overnight, but the warm front is also approaching, so lower altitudes will see the transition to rain on Sunday, with the possibility of a short period of frost or a rain / snow mix in some areas.
Western Vancouver Island will be in the 50-100 mm mark, with smaller quantities elsewhere.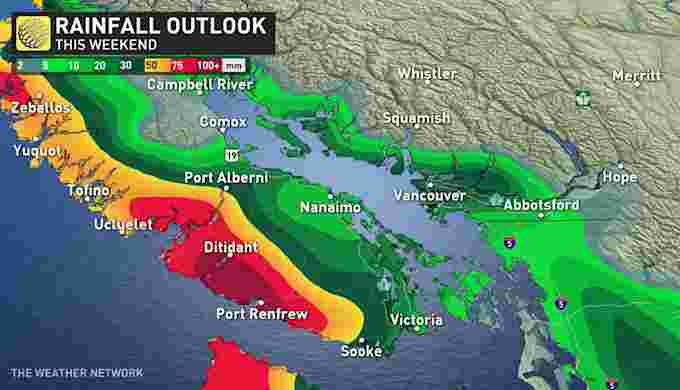 In addition, an active pattern is expected for most of next week, with the potential for Arctic air to return briefly in the middle of next week. With that, there will be some potential for the snow level to drop back to close to sea level.
Please check back for updates as we continue to monitor this system.
.