Denver: It is estimated that 580 homes, a hotel and a mall were burned, and tens of thousands of people were evacuated in wind-driven bush fires outside Denver, officials said.
Boulder County Sheriff Joe Pelle said only one injury was reported, but did not rule out later finding out more serious injuries or deaths due to the intensity of fires that quickly swept across the region as the wind blew up to 169 km / h.
The forest fires, which span 6.5 square kilometers, enclosed parts of the area in smoky, orange skies while residents tried to get to safety.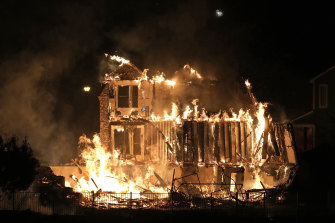 The city of Louisville, which has a population of about 21,000, was ordered to evacuate after residents of the Superior, which has 13,000 residents, were asked to leave the site. The neighboring towns are located about 20 miles northwest of Denver.
Several fires started in the area on Thursday, at least some triggered by broken down power lines.
Six people injured in the fires were treated at UCHealth Broomfield Hospital, spokeswoman Kelli Christensen said. A nearby section of US Highway 36 was also shut down.
Colorado's Front Range, where most of the state's population lives, had an extremely dry and mild fall, and the winter so far has remained mostly dry. Friday, US time, snow was expected in the region.
A video recorded by a spectator outside a Superior Costco store showed an apocalyptic scene with winds whipping through barren trees in the parking lot surrounded by gray skies, a hazy sun and small fires scattered across the ground.